Coffee Equipment > Whole Bean Grinders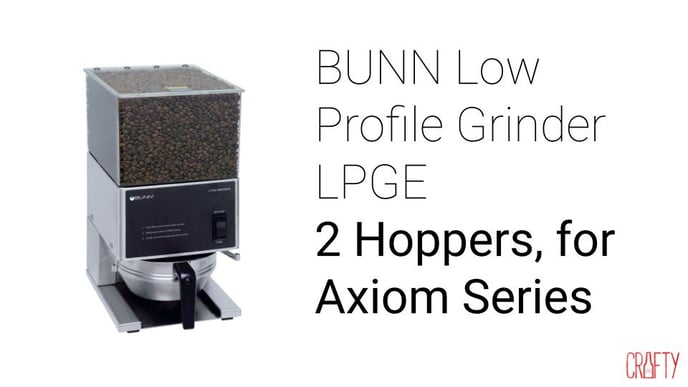 Bunn-O-Matic
Since 1957, Bunn-O-Matic Corporation ("BUNN") has been at the forefront of dispensed beverage equipment manufacturers. The majority of all commercial equipment models are assembled at facilities in the USA, and some of the components for their products are also tooled in these same facilities. BUNN's mission is to be the best provider of beverage equipment and services worldwide.
BUNN Low Profile Grinder (LPGE), 2 Hoppers, for Axiom Series
This double hopper, fresh bean grinder is one of the best ways to have a perfect cup of coffee in your office. Each hopper holds 3 pounds of those magic beans which means there are many delicious cups of coffee in your future! It's also portion controlled so you don't have to do any measuring; just grind and go. Each hopper is removable which means there doesn't need to be any interruption in service when it's time for a refill. Fill with 6 pounds of some of your favorite local beans from our endless selection, and you got yourself a pretty sweet morning.
This grinder was designed to pair with the Axiom Series brewers, which includes the DV-APS and the TWIN-APS. Each grind is portion controlled for the right amount of coffee every time, with 3 batch sizes per hopper to match the Axiom Series.
The Nuts and Bolts
Quality: When it comes to quality in the drip coffee industry, Bunn is the gold standard. This grinder provides a professional grind provided by large 3.19" (8.1cm) diameter burrs powered by quiet, low speed, high torque motor.
Volume: Each hopper holds 3 pounds of whole beans.
Maintenance: This machine requires a weekly cleaning of wiping down the exterior surfaces and and cleaning out the interior with a mild, non-abrasive, liquid detergent as well as a deep clean every 6 month. This can be managed and scheduled by our lovely Field Operations Team!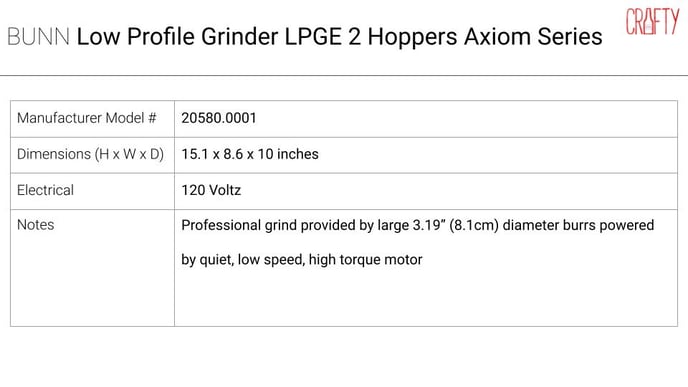 Spec sheet and installation guidelines are available for download through here.
Additional information is available via the manufacturer's website.
Interested in having a BUNN Low Profile Grinder (LPGE), 2 Hoppers, for Axiom Series in your office? Not sure and just want to chat? Just looking for someone to talk to? Honestly, we're down for whatever.