Equipment & Servicing > Coffee Machines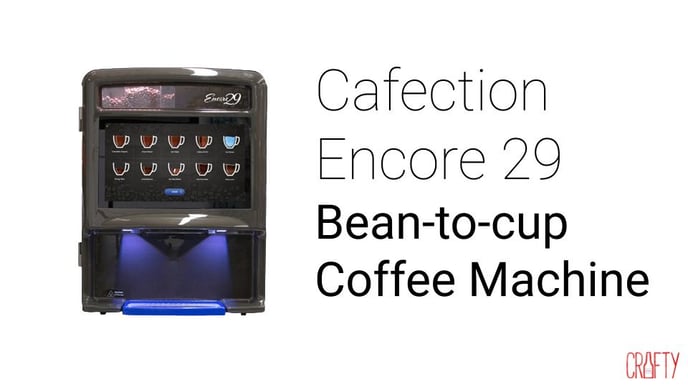 Cafection
Cafection, founded in 1996 in Quebec Canada, is a North American manufacturer of innovative bean to cup coffee machines. They are said to be the first in the world to create an internet-connected, touch screen coffee machine. Those at Cafection are totally tech-forward, which is definitely our jam. They even have partnerships with Apple, Google, Facebook, Microsoft, and the Bill and Melinda Gates Foundation. They are a great example of coffee and tech coming together to create the perfect cup!
Encore 29 Bean-to-cup Coffee Machine
This good-looking touchscreen machine makes some delicious coffee magic! It's compact so it fits into many spaces, even those that don't have a ton of room. It's environmentally friendly, and it's NSF-4 certified and NAMA listed. This essentially means that it's a safe and secure machine to use, but if you'd like a little more detail, you can watch a quick video about that here.
The Encore 29 can also hold up to three bags of beans, which means you don't have to skimp on variety. It can also hold 3 soluble products – that basically means there's room for powdered milk or hot chocolate, so your team can make several kinds of tasty drinks.
The touchscreen, which is 18.5 inches wide, is high def, and easy to use, so there's no confusion and no lag time in between deciding what you want to drink and waiting for it to be ready!
The Nuts and Bolts:
Quality: While powered milk drinks aren't as fresh as regular milk, you are still working with fresh coffee beans. This is one of the best within its tier!
Volume: This is great for an office of 51 to 200 people.
Maintenance: This machine will let you know when it needs to be cleaned and our lovely Field Ops Team can manage the cleaning for you! We'll create a daily cleaning schedule that keeps the outside looking brand new, and we'll manage the less frequent deep cleaning that is required.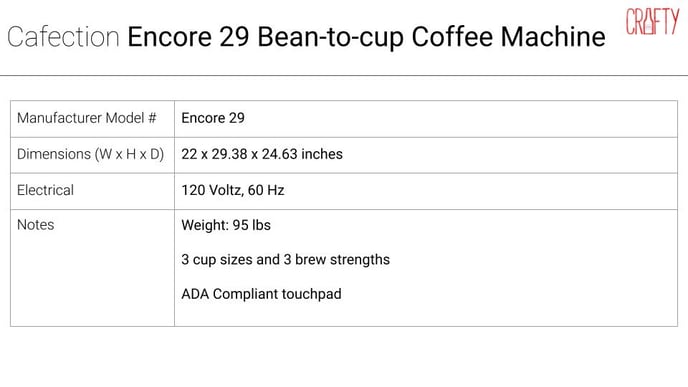 And that's about it! If you're interested in learning more about the Cafection Encore 29 Bean-to-cup Coffee Machine see some additional links below :)
Spec sheet is available for download here.
Additional information is available via the manufacturer's website.