Crafty's Field Ops team manages your inventory levels and automates your orders. We count, restock, beautify and everything in between.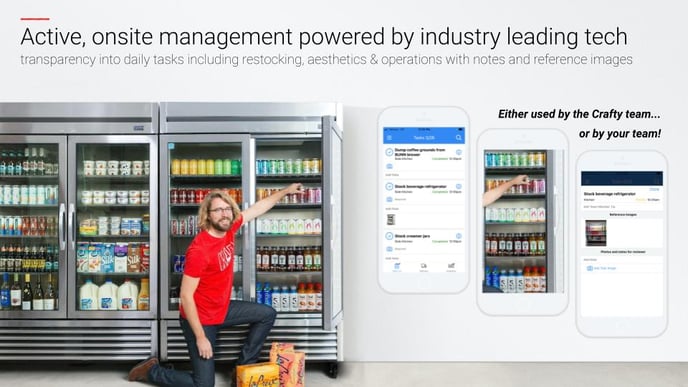 Our Field Ops team is comprised of the people who make the magic happen. They're the ones who make sure every request is honored, so you can focus on literally anything else. From restocking product, organizing the storage room, servicing equipment, and beautifying your space, we've got your back :)
Our clients choose one of three Field Operations service packages:
Delivery Plus
Half Day
Whole Day
Delivery Plus
On top of the drop off, our delivery drivers will handle additional tasks, such as restocking, taking inventory, and light touch equipment cleans, up to 1.5-hours worth of task completion.
While it's not as full-service of an offering as our Half Day and Whole Day shifts that can include tasks like brewing coffee in the morning, Delivery Plus is a great, light-touch offering to do more than just delivery when we are dropping off product.
Available either 1x or 2x per week, Delivery Plus is ideal for single location clients who need restocking on top of deliveries and have an existing internal team in their office who can handle tasks in between our deliveries.
Half Day & Whole Day Shifts Handled by our On-Site Operators
Crafty can staff on-site operators entirely separate from our delivery team to provide a more white-glove service than our Delivery Plus offering. With Half Day and Whole Day Shifts, Crafty's on-site operators can handle pretty much any F&B related tasks, as well as things like conference room resets.
Our team leverages our Operations App to give our clients transparency into the on-site tasks that need to happen on a regular basis:
They handle proactive equipment maintenance and are the first line of defense to troubleshooting issues that arise
They maintain a standardized aesthetic and restock product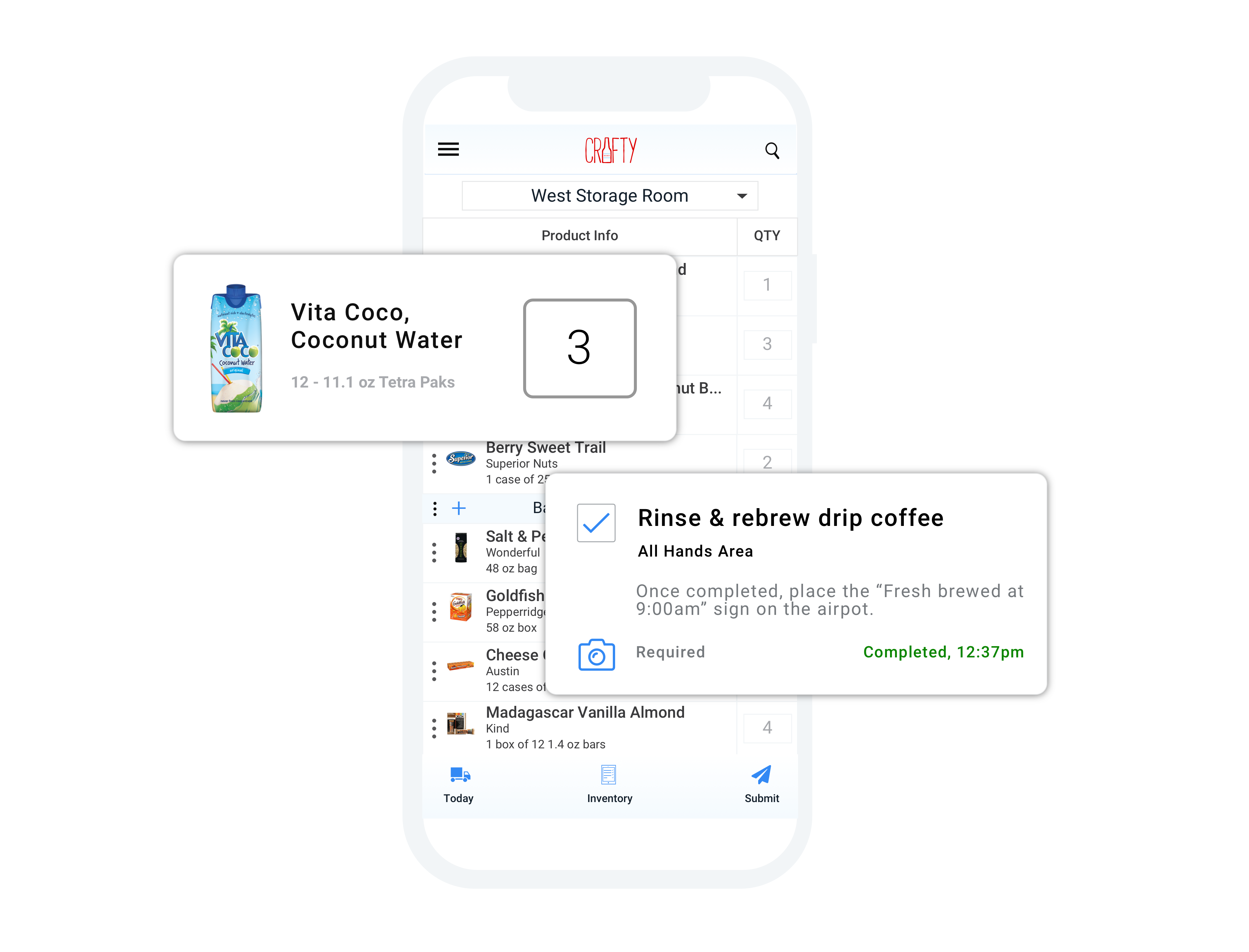 Field Coordination & Management
Field Coordinators & Managers are the support team for our on-site Operators. They are available to field questions, manage staffing, provide training and performance feedback, and perform QC checks across our client base.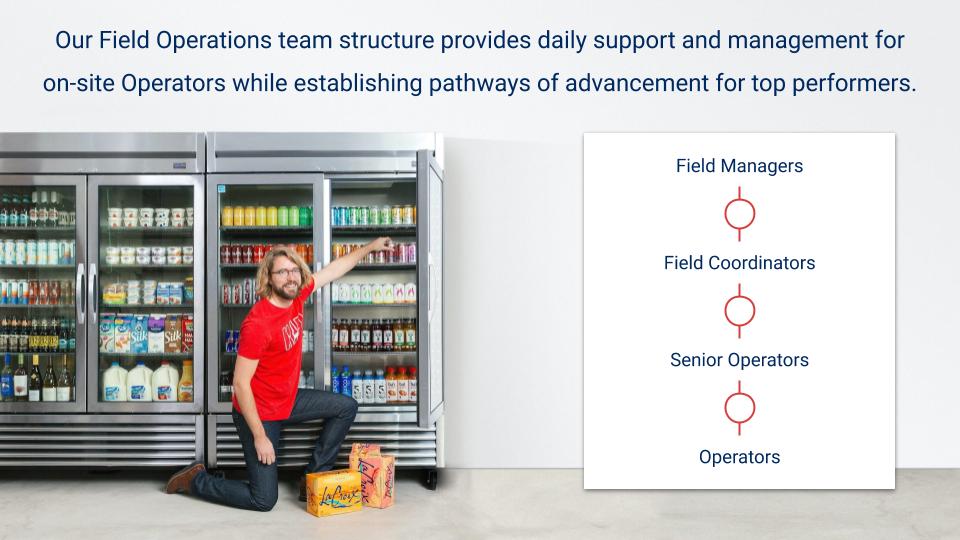 Our Field Operations team leverages communication channels to track, view, and manage performance from afar. When on-site Operators complete their tasks, such as restocking, they capture photos of the product display they've recreated, so that our Field Operations team can view and check their performance against the standards we've set.
In tandem with our Account Management team, our Field Operations team delivers a pretty amazing experience that our current clients love. If you'd like to see us in action, drop us a line, and we'll arrange a walkthrough at one of our current clients in your city.
Quality Control Checks
Quality Control checks are conducted to ensure Crafty standards are upheld and that client specific requests are being followed!
Here's a quick overview of our QC criteria:
Storage Spaces: Product is organized using FIFO and consolidated, i.e., multiples of one product are not open
Display: Products are front-facing and merchandised per Crafty's Service Creed
Freshness: Product stocked using FIFO and all expired product removed
Cleanliness: Counter spaces, bulk jars, fridges, equipment, etc. are wiped down at the end of stocking
Equipment: All pieces of equipment are intact and operable, or a work order has been ordered
Our Field Operations team are the boots on the ground and the faces of Crafty for many of our clients, and we are proud of our team!