Eversys e'4m Equipment > Coffee Equipment > Automatic Bean-to-Cup Espresso Machines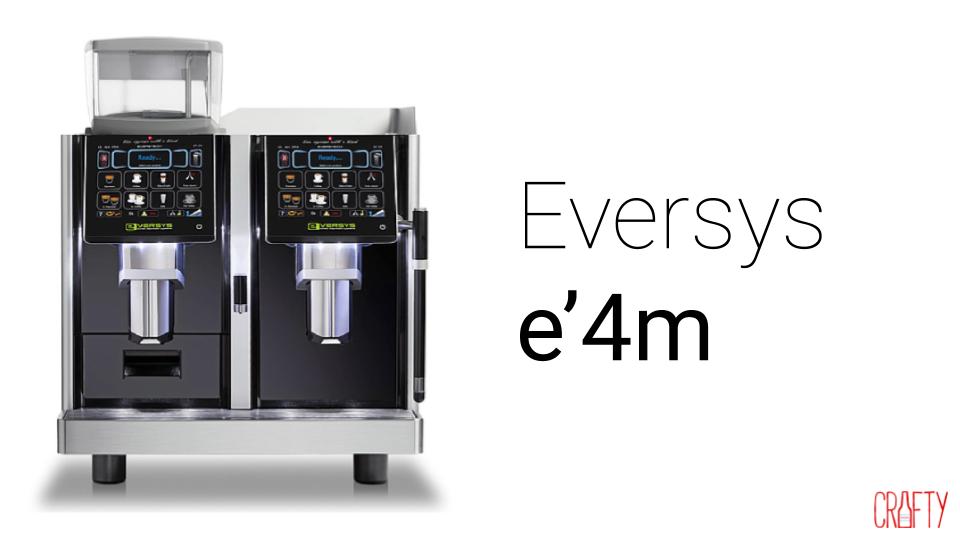 Eversys
The first Eversys was created in Switzerland in 2009 by by Jean-Paul In-Albon and Robert Bircher. At the time, the typical automatic espresso machine was built for function, not for product quality. The Vision of Eversys is to bridge the gap between traditional Italian coffee equipment and intelligent electronic super-automatic coffee machines, without any compromise to in-cup quality. In short, the goal of Eversys is to transfer barista skills directly into a machine.
The e'4m
The e'4m is a 22 in. wide machine conceived to produce 4 espresso/cappuccino at the same time, two from each side. Both tea and continuous steam can be produced concurrently, and the e'4m is equipped with an built-in automatic milk heating/frothing module.
The machine can run two different types of milk from a separately purchased milk fridge that can be located in the cabinetry under the machine or next to the machine on the counter. Once the milk is steamed and heated internally, it then transfers into your cup.
While the machine can come with a steam wand, we always remove it, since it's not necessary to the milk function and can become a liability for individuals who are not trained on proper milk frothing and sanitation techniques.
The e'4m has two hoppers (a fancy word for "container") that hold 3.30 lbs of whole beans each.
The Nuts and Bolts
Here's what you really need to know about this incredible machine:
Quality: the Eversys machines make the best quality drinks of all the machines we offer. We've had Italian executives even remark that its espresso is "quite good" :) Italy is the birthplace of espresso, ergo, ipso facto, an Italian executive endorsement is the chef's kiss of approval.
Volume: this machine is a workhorse, not just a show horse into dressage (side note: we're not entirely sure what 'dressage' means either but it sounds fancy). We have placed it in offices of 500+ people, where it has performed like Simone Biles every damn time. For smaller offices, we recommend the Cameo c'2m.
Maintenance: if the grounds container is installed in the cabinetry under the machine, then the only maintenance schedules are daily and weekly. If the grounds container in the machine is used, the in-machine container will need to be dumped once every 30 espressos, and it will count and prompt the user when that time comes.
And that's about it! Here are some specs, so you really know EVERYTHING about the e'4m :).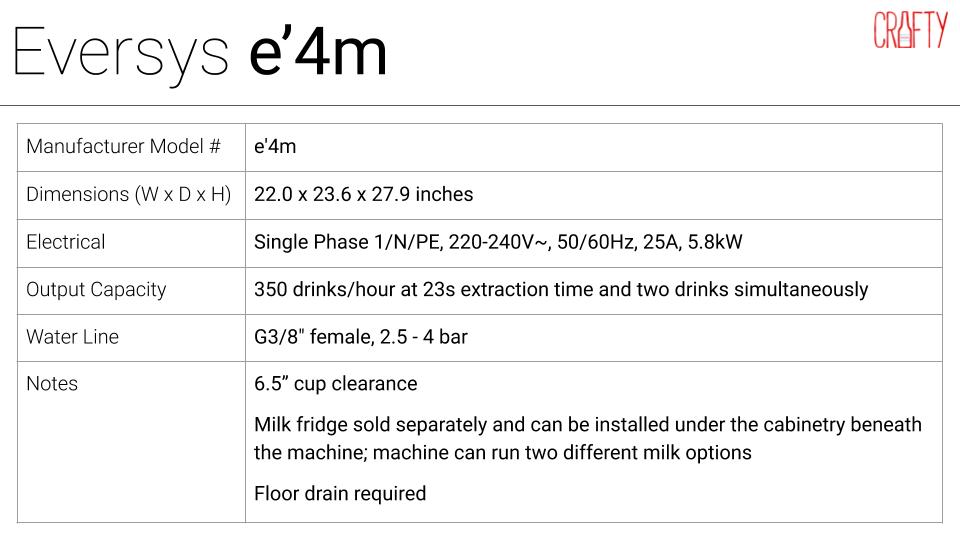 Spec sheet and installation guidelines are available for download through here.
Additional information is available via the manufacturer's website.
Interested in having an Eversys e'4m in your office? Not sure and just want to chat? Just looking for someone to talk to? Honestly, we're down for whatever.