Equipment & Servicing > Water & Ice Machines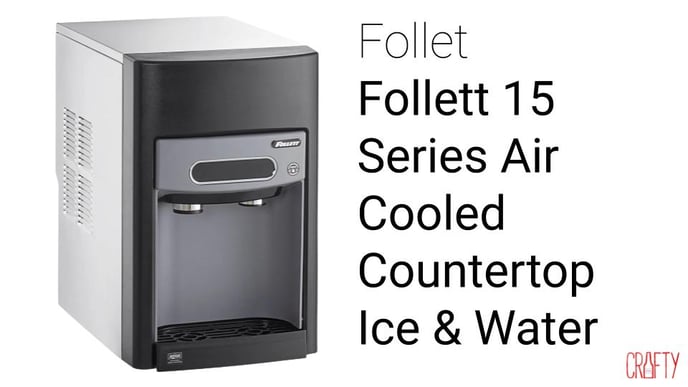 Follett
Located in Lehigh Valley, Pennsylvania, Follett has led the industry in designing and manufacturing high quality, innovative ice storage bins, ice storage and transport systems, ice machines, ice and water dispensers, ice and beverage dispensers, and medical-grade refrigerators and freezers for the foodservice and healthcare industries.
Follett 15 Series Air Cooled Countertop Ice & Water
This titan of industry makes up to 160 servings every 10 hours and up to 125 pounds of ice per day. Not only does it create the perfect nugget sized ice for margaritas, smoothies, or just a classic glass of water, it also looks good too with its stainless steel and black rimmed exterior.
While most water & ice machines require a floor drain, this innovative model evaporates the water located in the drip pan using the heat from its condenser. Quite a clever trick! This machine is both easy to install and easy to clean.
Additionally, this model delivers those cute little chewable nuggets of ice, as opposed to the traditional larger ice cubes.
The Nuts and Bolts
Quality: Follett has been around since 1948 leading the ice machine industry for decades.
Volume: This is perfect for an office of up to 200 people.
Maintenance: Our Field ops team does a daily wipe down and drip tray cleaning and our service tech performs a preventative maintenance cleaning every 6 months. It's all scheduled by us so you just have to sit back and enjoy the ice!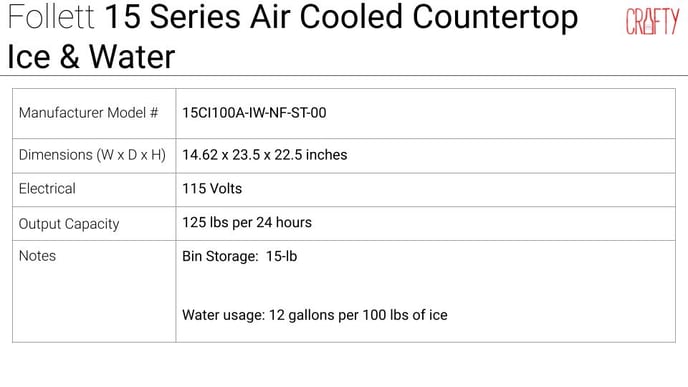 And that's about it! Here are some specs, so you really know EVERYTHING about the Follett 15 Series Air Cooled Countertop Ice & Water :)
Spec sheet and installation guidelines are available for download through here.
Additional information is available via the manufacturer's website.