Learn all about our free standing snack shelves to add to the aesthetic of your snack setup!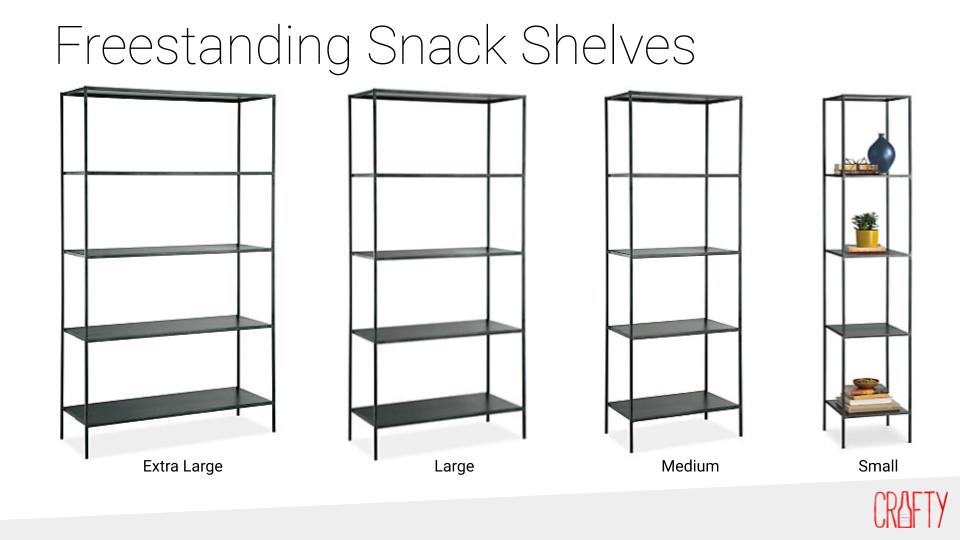 Room & Board
Room & Board was founded in Minneapolis, Minnesota by John Gabbert and a subsidiary of his parent's furniture store, Gabberts. They now operate all over the country offering sturdy, modern and clean designs. They partner with small and family-owned stores and designers around the country to create unique pieces of home decor.
Freestanding Snack Shelf
The freestanding snack shelves are a classic from Room & Board. These thin, unobtrusive, and modern shelves maintain a simple look while allowing the snacks to take the shine. As always, Crafty will adorn the shelves with some sleek looking wire baskets, bowls, and some lovely greenery to make your snacks look even more appealing for your team!
Nuts and Bolts
Quality: These shelves are just as sturdy as anything in the market today. The natural recycled steel frame ensures that this piece will last as long as you need it to. The phrase "strong as steel" is a societal mainstay for a reason. That reason is, steel is strong...if that wasn't clear ;).
Volume: For aesthetic purposes, and to maintain this modern and airy look, we suggest not overcrowding the shelves; however, even with that, they're able to hold quite a wide variety of snacks depending on which size you choose.
Maintenance: Aside from a regular wipe down from our Field Ops team, this piece doesn't need much!
Here are the 4 sizes available:
For additional specs and guidelines, click here! (folder with a folder that has a subfolder for all 4 sizes)
And that's all, folks! If you're interested in having one or many of these baddies in your space, get in touch :)