Equipment & Servicing > Refrigeration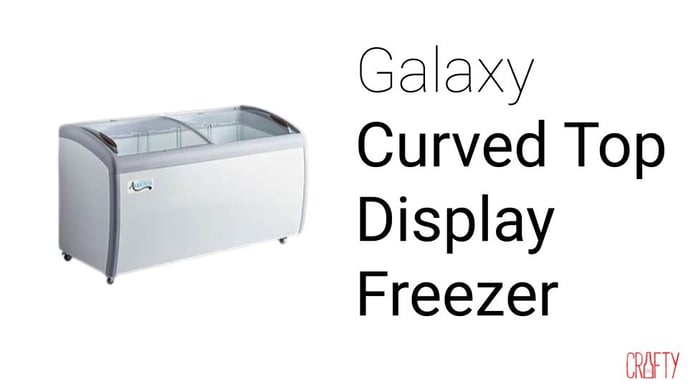 Galaxy
Galaxy has been making at-home appliances since 2006. They're known for their washer and dryer game, and it didn't take long to enter into the world of refrigeration. Now, they're responsible for making just about every at-home appliance you can think of and have been a household name in the appliance space for at least the last decade. Everything is made in the United States, and they are headquartered in Pennsylvania.
Galaxy Curved Top Display Freezer
This classic, chest-like freezer is a great addition to any office looking for more space for their yummy frozen goods (let's be honest: it's an ice cream holder and we're in support of that)!
The glass curved top is designed so that you can peer into the spacious interior to see what treats await. The top has a built-in lock to provide extra security against those pesky ice cream thieves, and the interior baskets help you organize products neatly.
The freezer's 1/5 hp compressor runs on R-290 refrigerant to keep a consistent temperature from -13 to 0 degrees Fahrenheit. This refrigerant has an ozone depletion potential (ODP) of 0 and a global warming potential (GWP) of 3, meaning it's very energy efficient!
The Nuts and Bolts
Quality: The interior is made of embossed aluminum, and the exterior is made of white powder coated steel, making it extremely durable and long-lasting.
Volume: This is great for an office of 51-200 people.
Maintenance: Our Field Ops team will wipe these down daily after filling them with product. We focus on the exterior and glass top. don't usually need much wiping. We also do a deep clean of the freezer once a week which requires us to take everything out and disinfect every surface.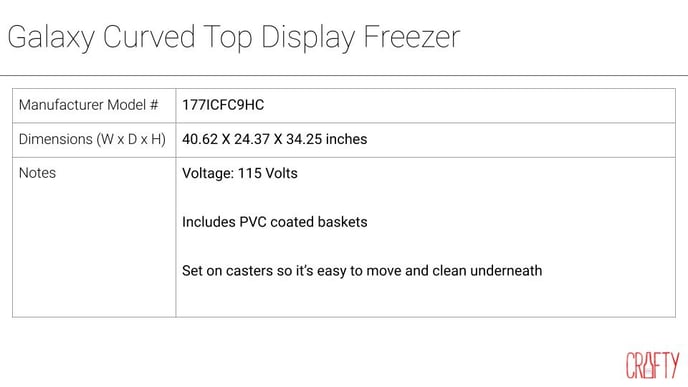 For additional specs and guidelines, click here!
And that's all, folks! If you're interested in having one or many of these baddies in your space, let us know :)