Keurig K-2500 Equipment > Coffee Equipment > Pod Coffee Machines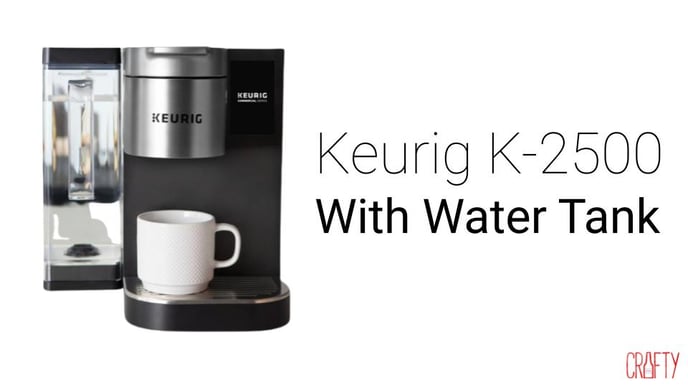 Keurig
Keurig was founded in Massachusetts in 1992. It launchd the single cup brewers we've all come to know in 1998 specifically targeting the office market.
While we know historically, Keurig hasn't been number 1 in sustainability, they are making big strides in lowering their footprint and making sure their single use cups are re
cyclable. You can read all about it here.
The K-2500
This sleek and modern machine not only fits the aesthetic of any office kitchen, it brews delicious single servings of coffee, tea, and cocoa, all on its easy to use touchscreen. This cool cucumber can be connected directly to the water line, which means less tank filing and more caffeine drinking. Don't have water line access? You can use the included 110 oz. water reservoir.
As with any Keurig, you can customize your beverage with 5 cup sizes: 4, 6, 8, 10, and 12 oz.. With the "Strong" button, you can add a little more oompf to your cup if you need it. Get the most out of that K-cup!
The Nuts and Bolts
Quality: the quality of a Keurig machine can be demonstrated by its ability to customize every cup of coffee to each individual's taste. Each brew gets you the delicious cup of coffee, made especially for you, just the way you like it.
Volume: this is a great machine for an office of up to 50 people.
Maintenance: besides a daily wipedown and emptying of K-Cups, this brilliant brewer will prompt you whenever it needs a descale. This can all be managed beautifully by our lovely Field Ops team.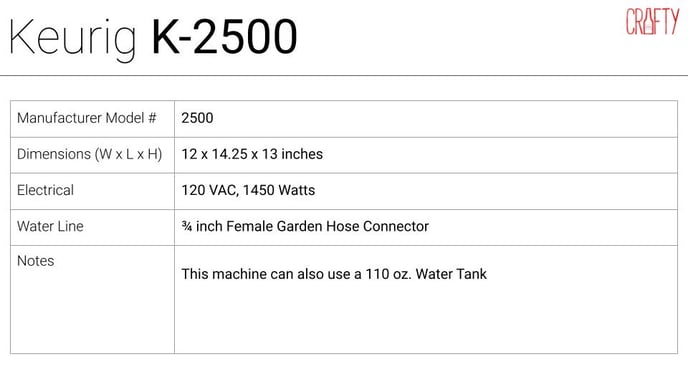 Spec sheet and installation guidelines are available for download through here.
Additional information is available via the manufacturer's website.
Interested in having a Keurig K-2500 in your office? Not sure and just want to chat? Just looking for someone to talk to? Honestly, we're down for whatever.