La Marzocco GB5 Equipment > Coffee Equipment > Commercial Espresso Machines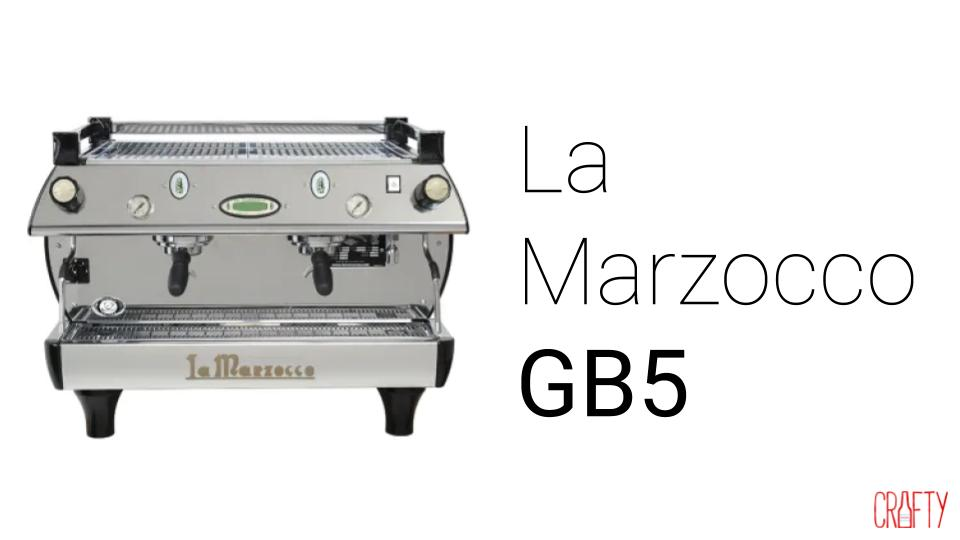 La Marzocco
Founded in 1927 by Giuseppe and Bruno Bambi, La Marzocco had its beginnings in Florence, Italy. La Marzocco has earned a world renown reputation for making beautiful, high quality, superbly crafted and uniquely designed espresso machines, with great attention to detail. Tradition and a passion in the search for quality and superior reliability are factors which have always distinguished and interested the entire company. Even today, highly specialized personnel supervise each stage in the production of every single machine, hand-crafted to order for each and every client. In this way, Giuseppe Bambi's great experience and professional pride live on after over ninety years.
GB5
The GB5 was first introduced during the HOST Expo in Milano in 2005 and launched at the SCAA conference in Seattle. This was the machine used in the World Barista Championship from 2005 to 2009, and was named after Piero Bambi's wife, Giovanna Bambi. The GB5 features a thermal stability system, which was designed in response to the demand for better temperature stability in the industry. This model introduces more sophisticated electronics and improved thermal-stability, along with an updated stainless body, which was entirely designed by Piero Bambi. Equipped with a CPU board, the GB5 combines gracious lines and beautiful curves with powerful technological advancements, in line with classic La Marzocco design and spirit.
A dynamic preheater assembly ensures that water entering the coffee boiler is at precisely 170 degrees. 170-degree water replaces the hot water exiting the group, reducing temperature swings in the coffee boiler. An algorithm-based PID temperature controller further reduces temperature fluctuation in the coffee boiler.
A group cap designed by Piero Bambi and an integrated ruby flow restrictor reduces channeling and ensures that water never leaves the saturated area of the coffee boiler; this eliminates the introduction of temperature instability during the brewing process.
The Nuts and Bolts
Here's what you really need to know about this incredible machine:
Quality: When compared to previous models, it includes many technological advances, among which a pre-heating system and PID (Proportional, Integral, Derivative). Thousands of GB5 have been produced and sold around the world. This machine is an understated companion to any coffee bar.
Volume: The GB5 is perfect for any office cafe with populations between 100 to 500 people. It provides steady brew water and steam even at the peak of the morning rush.
Maintenance: Backflushing of the groups will be performed by the barista daily, and replacement of gaskets, group screens, and water filtration, as well as a team wand rebuild will be performed every 6 months.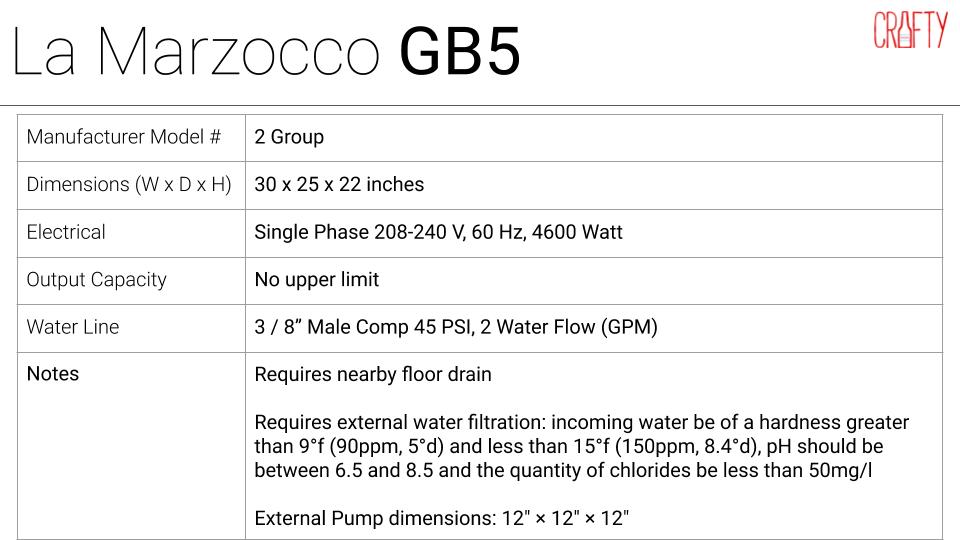 And that's about it! Here are some specs, so you really know EVERYTHING about the La Marzocco GB5 :)
Spec sheet and installation guidelines are available for download through here
Additional information is available via the manufacturer's website website
Interested in having a La Marzocco GB5 in your office? Feel free to drop us a note :)