La Marzocco Linea Classic 2 Group Equipment > Coffee Equipment > Commercial Espresso Machines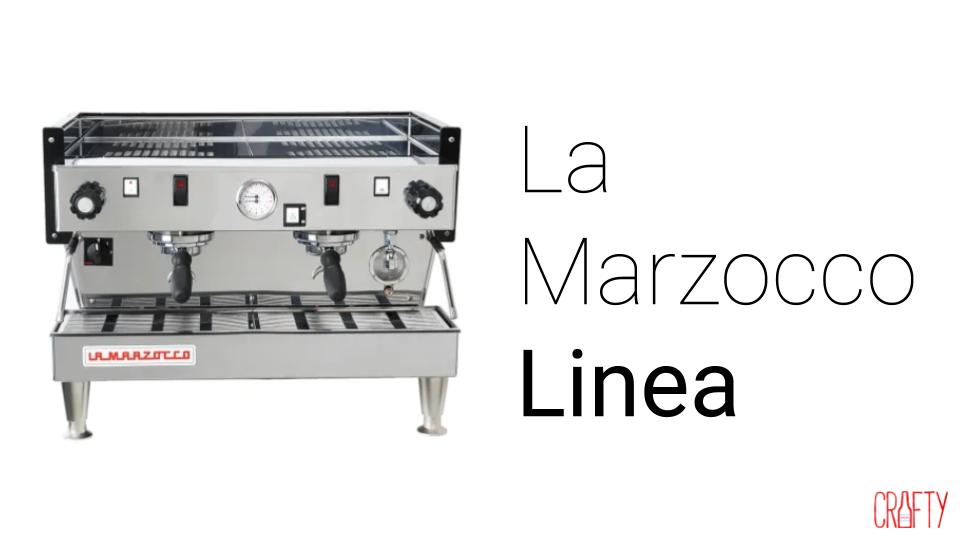 La Marzocco
Founded in 1927 by Giuseppe and Bruno Bambi, La Marzocco had its beginnings in Florence, Italy. La Marzocco has earned a world renown reputation for making beautiful, high quality, superbly crafted and uniquely designed espresso machines, with great attention to detail. Tradition and a passion in the search for quality and superior reliability are factors which have always distinguished and interested the entire company. Even today, highly specialized personnel supervise each stage in the production of every single machine, hand-crafted to order for each and every client. In this way, Giuseppe Bambi's great experience and professional pride live on after over ninety years.
Linea Classic 2-Group
The clean lines and simple charm of the Linea occupy many of the cafes, roasteries, and chains whose names have defined the industry. The Linea is the classic La Marzocco machine that has supported the development of the specialty coffee industry since 1988. A tried and true machine, the Linea performs reliably in high-volume settings and is perfect for your new cafe, bar, or restaurant.
The Nuts and Bolts
Here's what you really need to know about this incredible machine:
Quality: The PID Controller employs an algorithm to regulate when and for how long the heating element is engaged in the brew boiler. The PID controller allows more efficient and stable regulation of energy. With this level of control, temperature variability is reduced dramatically, making for a more consistent brew temperature. The barista is able to adjust the brew boiler temperature to a precise numerical value using a simple keypad without having to remove machine panels.
Volume: A tried and true machine, the Linea performs reliably in high-volume settings and is perfect for your new cafe, bar, or restaurant. This machine is our favorite go-to espresso machine for any in-office cafe with populations between 100 and 500 people. For more than 500, we recommend a 3 group espresso machine.
Maintenance: Backflushing of the groups will be performed by the barista daily, and replacement of gaskets, group screens, and water filtration, as well as a steam wand rebuild will be performed every 6 months.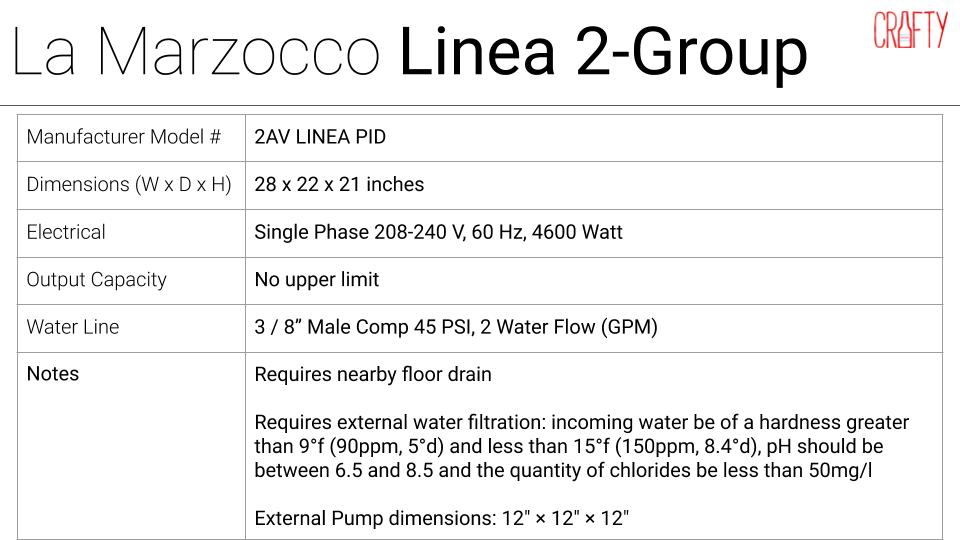 And that's about it! Here are some specs, so you really know EVERYTHING about the La Marzocco Linea Classic 2-Group :)
Spec sheet and installation guidelines are available for download through here.
Additional information is available via the manufacturer's website.
Interested in having a La Marzocco Linea Classic 2 Group in your in-office cafe? Not sure and just want to chat? Just looking for someone to talk to? Honestly, we're down for whatever.