La Marzocco Strada 2 Group Equipment > Coffee Equipment > Commercial Espresso Machines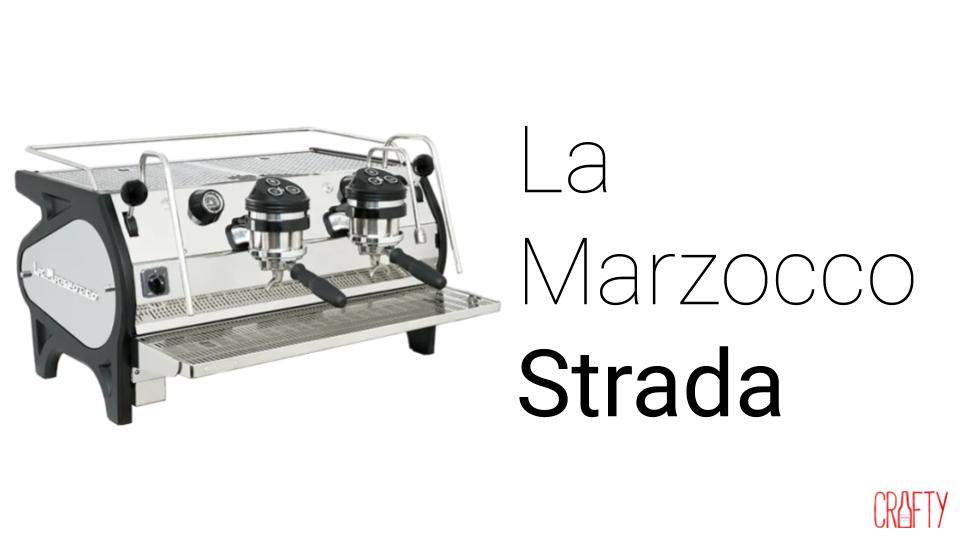 La Marzocco
Founded in 1927 by Giuseppe and Bruno Bambi, La Marzocco had its beginnings in Florence, Italy. La Marzocco has earned a world renown reputation for making beautiful, high quality, superbly crafted and uniquely designed espresso machines, with great attention to detail. Tradition and a passion in the search for quality and superior reliability are factors which have always distinguished and interested the entire company. Even today, highly specialized personnel supervise each stage in the production of every single machine, hand-crafted to order for each and every client. In this way, Giuseppe Bambi's great experience and professional pride live on after over ninety years.
Strada
Over the course of two years, La Marzocco worked with thirty of the world's finest coffee professionals to design this machine. This group was known as the "Street Team"; the Strada, Italian for street, was named in their honor. A barista-friendly design combined with the most technologically advanced traditional espresso machine, this particular design was created to encourage creativity and customization so that each machine can be unique.
The Strada is equipped with insulated and independent boilers. Separate boilers for each group head allows each barista to optimize temperature for individual coffees while reducing energy consumption and contributing to temperature stability. The Strada also uses dual Proportional-Integral-Derivative (PID) that allows you to electronically control coffee & steam boiler temperatures.
Oh wait there's more…
The coolest thing about the Strada is the Performance Touch Steam Wand (AV Model only). Vacuum-insulated double-walled steam wand remains cool to the touch while delivering high-volume dry steam, thereby keeping our baristas' little paws safe!
The Strada has a Hot Water Economizer which enables you to fine-tune the tap water temperature for rinsing. As well as an Adjustable Deep Drip Tray & Exposed Groups. This accommodates a variety of cup sizes as well as providing ergonomics and work space visibility. The Strada also has a Digital Display that is equipped with beautiful Intuitive programming that makes it easy to adjust the machine's parameters.
The Nuts and Bolts
Here's what you really need to know about this incredible machine:
Quality: This high end machine is at the forefront of the Third Wave Coffee scene. It limits any variables in the espresso making and promises a new kind of control over pressure. One of the most critical parameters in making espresso.
Volume: This machine can handle high volume traffic without breaking a sweat. The perfect espresso machine for any in-office cafe with populations between 100 and 500 people. For more than 500, we recommend a 3 group espresso machine.
Maintenance: Backflushing of the groups will be performed by the barista daily, and replacement of gaskets, group screens, and water filtration, as well as a steam wand rebuild will be performed every 6 months.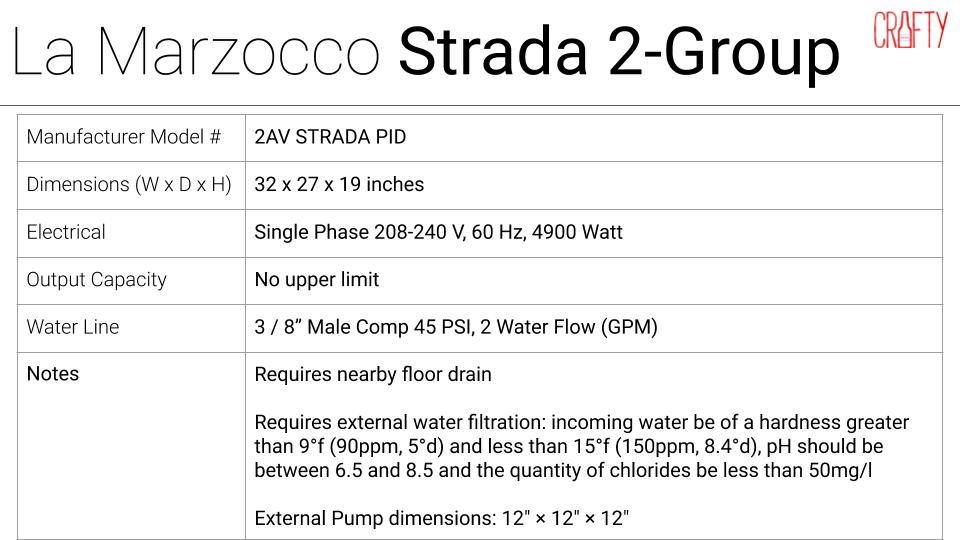 And that's about it! Here are some specs, so you really know EVERYTHING about the La Marzocco Strada :)
Spec sheet and installation guidelines are available for download through here.
Additional information is available via the manufacturer's website.
Interested in having a La Marzocco Strada in your in-office cafe? Not sure and just want to chat? Just looking for someone to talk to? Honestly, we're down for whatever.