Equipment & Servicing > Coffee Machines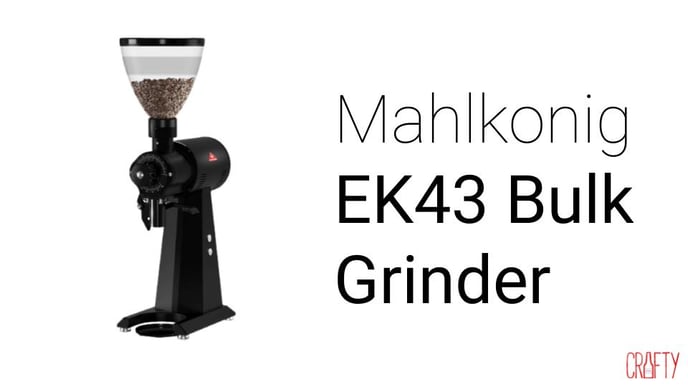 Mahlkonig
Malhkonig, also known as the "King of Grinders" has been making their grinders in Germany since 1924. A rare company that focuses solely on grinders as opposed to adding coffee machines to their product list, they are focused on being the absolute best at the one thing they do. They're like that sushi chef in Japan who has been making sushi every single day for 40 years, for 16 hours a day. Because grinding is their only focus, they stop on top and ahead of the game to bring you the best technology to make sure you're getting the freshest cup of coffee out there.
EK43 Bulk Grinder
The EK43 has conquered the international coffee specialty industry and rules as the undisputed queen of coffee grinders – with high performance, reliability and premium grinding results. Its outstanding grinding profile remains unmatched. The EK43 provides the most even extraction of the coffee's valuable aroma and is known to be a guarantor for an outstanding taste experience and a symbol for quality. Its special shape has become an icon within the international barista scene, which feels deeply connected to the EK43 by its shared passion for coffee.
This grinder has everything: high performance, reliability, and premium grinding results. It provides the most even extraction of the coffee's aroma and is known for creating an incredible tasting cup of coffee. With outstanding particle size spreads, you can deliver high extraction rates and the best possible taste. Premium cast steel burrs give the EK43 a robust grinder with high grinding capacity that is suitable for different applications: filter, espresso, or turkish fine coffee grinding. Simply put, an easy and precise grind experience.
The Nuts and Bolts
Quality: Mahlkonig knows grinders and knows coffee. It's literally their only thing. They are the best at what they do.
Volume: The bean hopper capacity is approximately 1500 g, which is ample capacity to pair with your in-office cafe's drip brewer.
Maintenance: This machine requires a weekly cleaning of wiping down the exterior surfaces and a more extensive deep clean every 6 months. This can be managed and scheduled by our lovely Field Operations Team!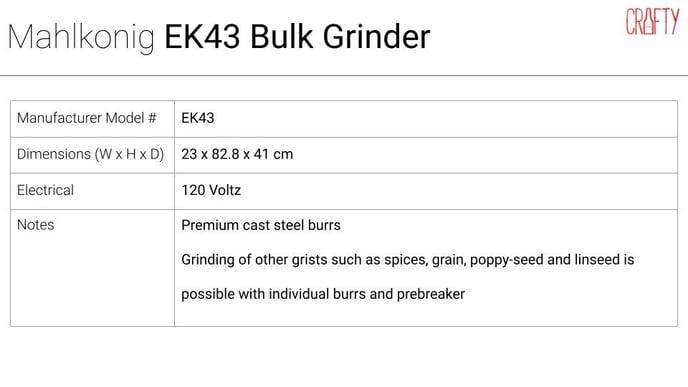 And that's about it! If you're interested in learning more about the Mahlkonig EK43 Bulk Grinder, see some additional links below :)
Spec sheet is available for download here.
Additional information is available via the manufacturer's website.