Equipment > Water & Ice Machines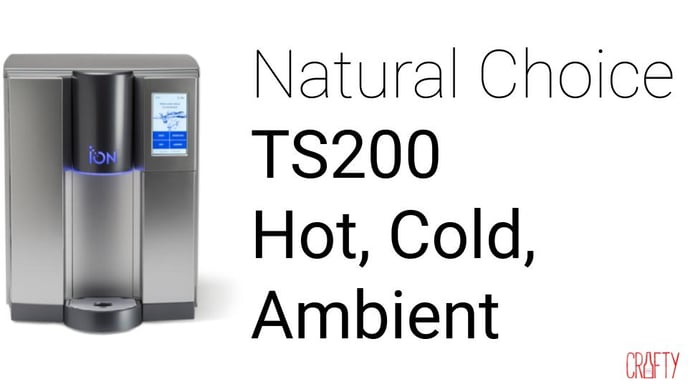 Natural Choice
Natural Choice Corporation is a leading designer, manufacturer, and distributor of drinking water appliances, bottleless water coolers, and filtration equipment. James B. Knoll started the company in 1990, building water coolers out of wood and cardboard in a small garage.
iON TS200 Hot, Cold, and Ambient Water Machine
With a very compact frame, this countertop water machine is able to deliver hot, cold, and ambient water all from one machine.
This water machine does not require a floor drain since it uses it's drip pan to collect any spillover. Keep in mind the drip pan must be cleaned out and emptied on a regular cadence to prevent any overflow.
The Nuts and Bolts
Here's what you really need to know about this sturdy machine:
Quality: there is a Carbon Plus filter pre-installed in every machine, which means that an additional water filter directly installed on the water line is overkill and not necessary with this unit.
Volume: this machine is very well suited for small and medium sized offices. We recommend one machine for every 50 people.
Maintenance: the drip tray should be dumped daily, and the machine itself should be wiped down daily as well. The water filtration system will need to be replaced quarterly at a minimum, but fear not: our Field Operations team will handle that :)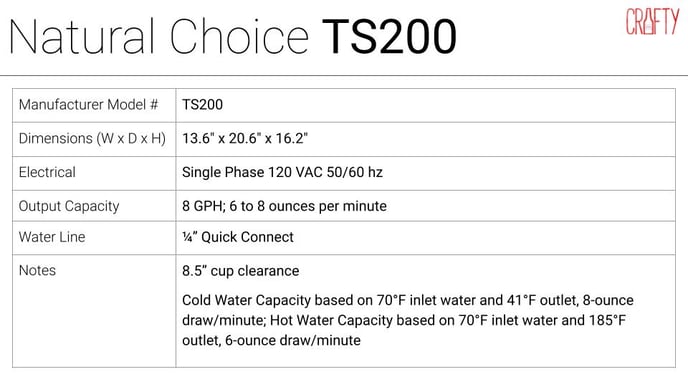 And that's about it! Here are some specs, so you really know EVERYTHING about the Natural Choice TS200 Hot, Cold, and Ambient Water Machine :)
Spec sheet and installation guidelines are available for download through here.
Additional information is available via the manufacturer's website.