Coffee Equipment > Milk Frothers
Nespresso
Nespresso, located in Lausanne, Switzerland, created these beautiful machines that brew coffee and espresso in capsules or pods with a pre-portioned amount of impressively tasty grounds. This way, you know you're getting the perfect amount for the perfect cup, every time. Fun fact, Nespresso is the combination of the words Nestlé and espresso! And in other news, water is wet! This has been "FAST FACTS!" with Crafty ;)
Let's not forget Nespresso's Sustainability Mission. Despite delivering their coffee via a pod, they have a great program to keep your footprint as small as a babyfoot (which is actually the name of Bigfoot's firstborn AND the most adorable way to measure something).
The Aeroccino4 Milk Frother
The Aeroccino4 is even more versatile and convenient than its predecessors.
With 2 types of hot foam, hot milk and cold foam, the Aeroccino4 offers you a wide choice to prepare even more coffee & milk recipes at home in a simple way.
With one single whisk you can now do all your preparations; just pour in the milk and select the desired button to obtain, in no time, a divine milk froth for your favorite recipes. On top, the Aeroccino4 is also dishwasher proof to ease cleaning.
The Nuts and Bolts
Quality: If you're looking for a simple, user-friendly, safe milk frothing solution, look no further.
Volume: This machine works best in an office of 50 people or less. If you're running a bit bigger, you might want to look at a coffee machine with built-in milk frothing capabilities.
Maintenance: This unit needs daily maintenance. Because it froths fresh milk, it needs to be cleaned out and sanitized daily.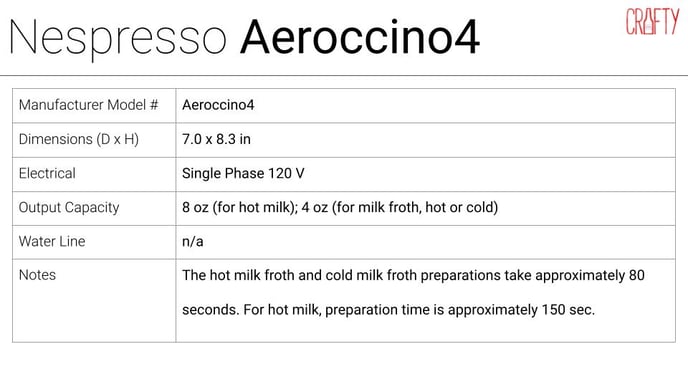 And that's about it! Here are some specs, so you really know EVERYTHING about the Nespresso Aeroccino4 :)