Equipment & Servicing > Water & Ice Machines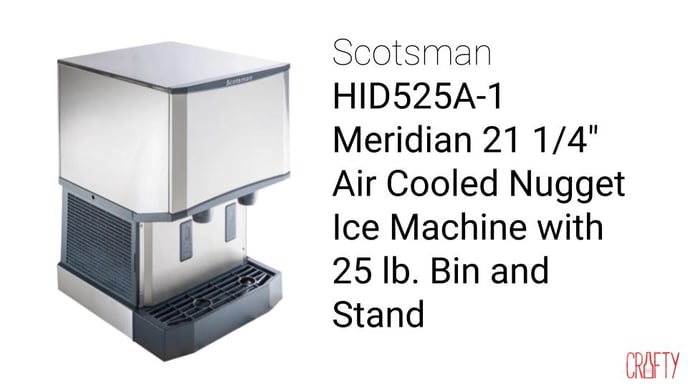 Scotsman
The Iceman Cometh, and the Iceman, AKA Scotsman Ice, reinvented the game. Scotsman is a world leading ice machine manufacturer for one reason: They know just how important ice is to so many businesses. From hotels, restaurants, bars, supermarkets and fast-food outlets, to hospitals, laboratories, fisheries and food processing facilities, Scotsman knows that missing the crucial element of ice, could be a huge financial setback. They supply us with cubes, flake, superflake, scale, nugget, and gourmet ice, in whatever quantity best suits your needs. Whether it's one cup of ice for an individual or 10 tons of ice for many, Scotsman has you covered.
Scotsman HID525A-1 Meridian 21 1/4" Air Cooled Nugget Ice Machine with 25 lb. Bin and Stand - 500 lb
The Scotsman HID525A-1 Meridian countertop air cooled freestanding ice maker and water dispenser can produce up to 500 lb. of nugget ice per day! Because of the stainless steel evaporator and exterior panels, you know this machine will be durable and long lasting. Not only that, but because of the improved internal components, it's quieter than a library featuring a fastidious shushing Librarian!
Dispensing ice right into your cup, it eliminates cross-contamination that scooping machines can suffer from. There is a AgION antimicrobial treatment built into key ice contact areas to keep things squeaky clean and avoid health risks. Outfitted with a large, removable sink and grill along with a large dispensing area make it easier for you or our Field Ops Team to wipe down and keep clean. We are back to the future with an intuitive LED diagnostic light system to alert you of any service needs, and a USB drive you can insert into the machine for quick software updates.
So it works well, but will it fit in my space? Well, the narrow 21 1/2" wide footprint means you can sneak this beauty in a tight space, and the included equipment stand helps you maximize your space if needed. The stand sturdies the base so you don't have to rely on counter space. Since the stand comes with 6" adjustable legs, cleaning underneath the machine is a breeze!
Nuts and Bolts
Quality: Scotsman pioneered the development of affordable, reliable ice-making machines in the 1950s. Today there are more than a million Scotsman ice machines at work around the world.
Volume: Since it can make up to 500 lbs of ice per day, this is perfect fit for an office of up to 200 thirsty people.
Maintenance: The LED system alerts you of any immediate maintenance needs but on a more regular basis, our Field ops team does a daily wipe down of this machine and our service tech performs a preventative maintenance cleaning every 6 months. It's all scheduled by us so you just have to sit back and enjoy the ice!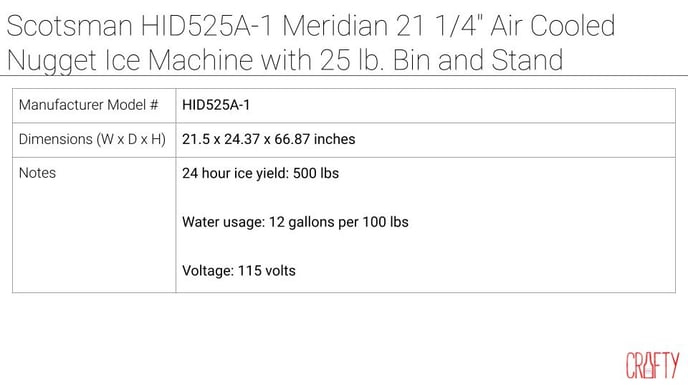 And that's about it! Here are some specs, so you really know EVERYTHING about the Scotsman
HID525A-1 :)
Spec sheet and installation guidelines are available for download through here.
Additional information is available via the manufacturer's website.