Equipment & Servicing > Water & Ice Machines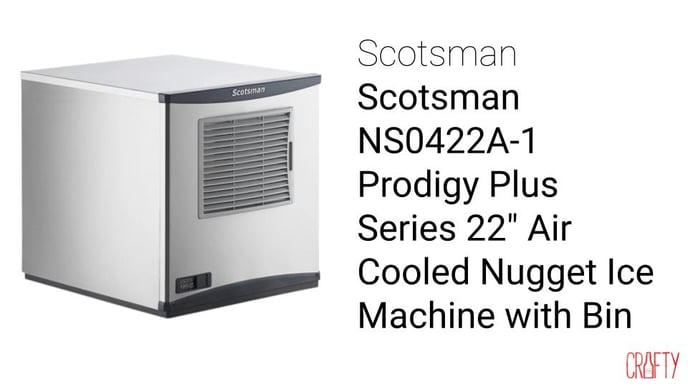 Scotsman
The Iceman Cometh, and the Iceman, AKA Scotsman, reinvented the game. Scotsman is a world leading ice machine manufacturer for one reason: They know just how important ice is to so many businesses. From hotels, restaurants, bars, supermarkets and fast-food outlets, to hospitals, laboratories, fisheries and food processing facilities, Scotsman knows that missing the crucial element of ice, could be a huge financial setback. They supply us with cubes, flake, superflake, scale, nugget, and gourmet ice, in whatever quantity best suits your needs. Whether it's one cup of ice for an individual or 10 tons of ice for many, Scotsman has you covered.
Scotsman NS0422A-1 Prodigy Plus Series 22" Air Cooled Nugget Ice Machine with Bin - 420 lb.
With the ability to produce up to 420 lb. of ice per day, you will find yourself only running out during a very specific zombie apocalypse where instead of brains, the zombies feed on delicious, chewable ice nuggets.
This machine uses 40% less water and 15% less energy than ice machines that produce traditional cubed ice, which is good for the earth and saves money. It has a removable and reusable air filter, as well as easy-to-use on/off buttons. The refrigeration system utilizes R-404A refrigerant and requires a 115V electrical connection for operation.
Energy efficiency is the name of the game with this model. It consumes 5.36 kWh of energy per 100 lb. of ice produced and only uses 12 gallons of potable water per 100 lb. of ice produced, and the air cooled condenser uses 100 gallons. As if that weren't awesome enough, its 22" width makes it a real space saver. It comes with a removable front air filter, built-in antimicrobial protection and features a sealed refrigeration system for easy cleaning.
Nuts and Bolts
Quality: Scotsman pioneered the development of affordable, reliable ice-making machines in the 1950s. Today there are more than a million Scotsman ice machines at work around the world, which proves how high-quality their machines are.
Volume: Since it can make up to 420 lbs of ice per day, this is perfect fit for an offices with more than 200 people.
Maintenance: Our Field ops team does a daily wipe down of this machine and our service tech performs a preventative maintenance cleaning every 6 months. It's all scheduled by us so you just have to sit back and enjoy the ice!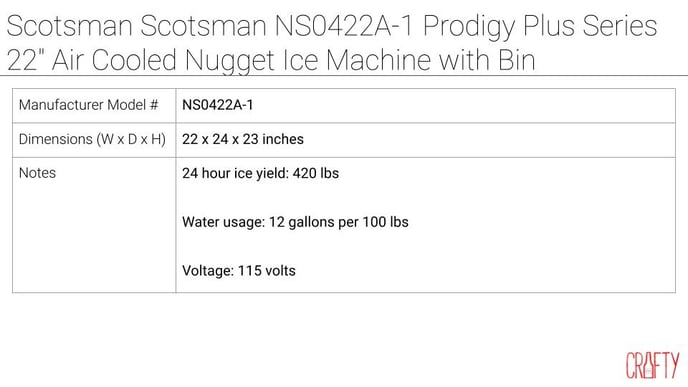 And that's about it! Here are some specs, so you really know EVERYTHING about the Scotsman
NS0422A-1 Prodigy Plus :)
Spec sheet and installation guidelines are available for download here.
Additional information is available via the manufacturer's website.