Equipment & Servicing > Snack Walls & Bulk Dispensers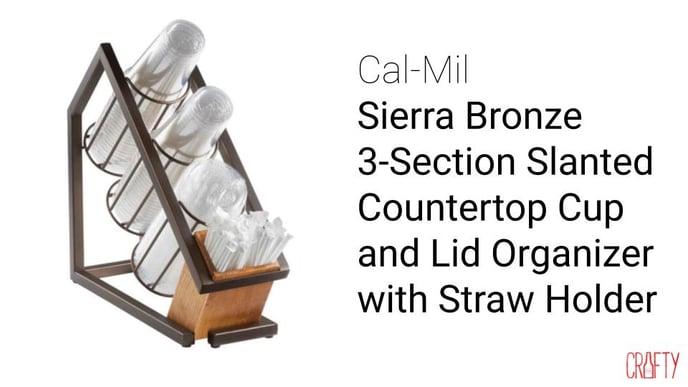 Cal-Mil
Cal-Mil was founded in 1965 as a family owned and operated business to create and manufacture products for the food service industry. After more than 50 years, they are still a family owned business and still creating the beautiful and functional products we see today!
Sierra Bronze 3-Section Slanted Countertop Cup and Lid Organizer with Straw Holder
Keep those countertops clean, organized, and looking good with this cup, lid, and straw holder. This sleek and modern looking holder makes use of the vertical real estate in your office to eliminate the clutter.
The Nuts and Bolts
Materials: Made of wood and bronze metal with an airy design, so it doesn't collect dust.
Maintenance: This just needs a weekly wipe down with a damp cloth to keep any dust at bay.
Dimensions: Length: 16 3/4" Width: 6" Height: 16 1/4"