Equipment & Servicing > Kegerators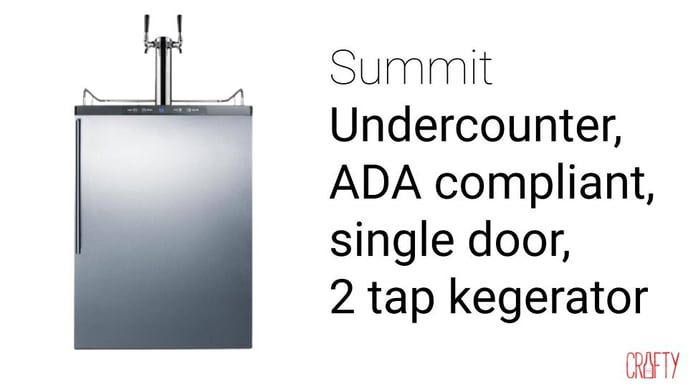 Summit
Felix Storch, Inc., (FSI) was founded in 1969 and has been a leading supplier of specialty, professional, commercial, and medical refrigerators and freezers, as well as cooking appliances ever since. In year one, they trademarked the Summit Appliance brand name and have been responsible for the beautiful equipment you've seen ever since. In 1983, they moved their headquarters from Long Island to the Bronx where they have been ever since. Their products now include a wide range of major appliances sold both nationally and internationally. FSI remains a privately owned company and is still run by the founding family, making them one of the few New York family-owned and operated businesses left in our industry!
Undercounter, ADA compliant, single door, 2 tap kegerator
Summit brings us one of the few and only ADA compliant, undercounter kegerators. This is designed at 32 inches high to fit under an ADA compliant countertop. Because it's a front breather (something that only sounds good in a kegerator), it can be built directly into your counter.. This unit features a user-reversible 304 grade stainless steel wrapped door with a stainless steel handle for a modern look. It also includes a guard rail and removable two-piece stainless steel drip tray to keep things clean.
It is designed to hold two sixtel kegs (note: interior does not fit a standard half barrel or full size keg), which gives you a variety of options (be it beer, wine, cold brew, iced tea or kombucha). It also features an interior light with an on/off switch and a dial thermostat, so you can maintain the perfect temperature for your drinks. A gas tank bracket inside allows you to keep the tank in the kegerator, so everything fits nicely when the door is closed. It's a gorgeous, stainless steel hidden gem, just under your counter!
Nuts and Bolts
Quality: Stainless steel interior and exterior walls will provide a long-lasting model that also looks great. The front breather allows it to function beautifully under the counter!
Volume: This kegerator can hold two sixtels (smaller, skinnier kegs) and one 5lb nitrogen or CO2 tank. It works beautifully for an office of up to 50 people.
Maintenance: Our Field Ops team will wipe these down daily after filling them with product. We recommend running a line cleaning in between each keg, and if not, at least once every two weeks. We also recommend changing out the liquid lines at least once every two years.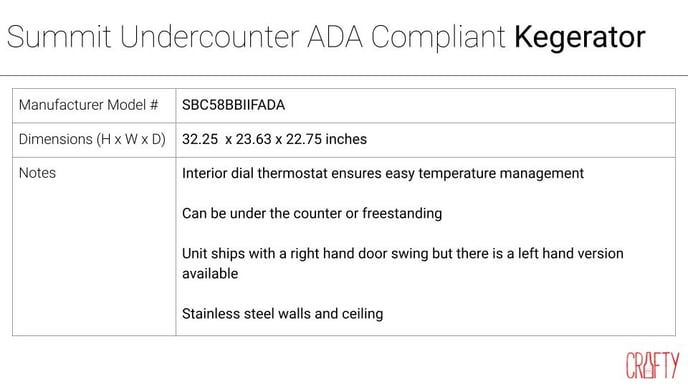 For additional specs and guidelines, click here!
For more information, you can visit the manufacturer's site here!
And that's all, folks! If you're interested in having one or many of these baddies in your space, let us know :)