Equipment & Servicing > Refridgeration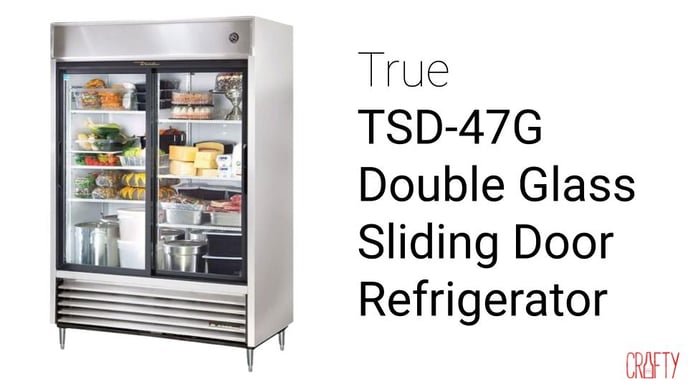 True Manufacturing
True Manufacturing was started right after the Second World War in 1945 by Robert Trulaske. Like most good ideas, Bob got the idea for commercial electrical refrigeration when he was out at a bar. The difference between most ideas that happen at a bar and Bob's idea was that he followed through! Because of his vision, True remains one of the most trusted commercial refrigeration companies out there today. True is still a family business, run by Bob's son, Steve Trulaske and everything from True is made in the USA.
TSD-47G Double Glass Sliding Door Refrigerator
This double glass sliding door beauty comes in stainless steel with a dent and corrosion proof exterior, so it'll maintain its good looks for long after purchase. The doors close by themselves to prevent air loss, the inside is illuminated by LEDs so everyone can see the goodies being kept cool inside, and it comes with six shelves that can be moved at ½ increments to adjust for whatever suits you best. It does some very cool science stuff in order to To maintain consistent a temperature of 33 to 38 degrees Fahrenheit.
The Nuts and Bolts
Quality: True Manufacturing makes all their products stateside and have been around since 1945. A company that has been around that long has a clear stake in making sure they're turning out the highest quality equipment possible.
Volume: This is great for an office of 51-200 people.
Maintenance: Our Field Ops team will wipe these down daily after filling them with product. We focus on the doors and the bottom of the fridge since the shelves are wire racks and don't usually need much wiping. We also do a deep clean of the fridge once a week which requires us to take everything out and disinfect every surface.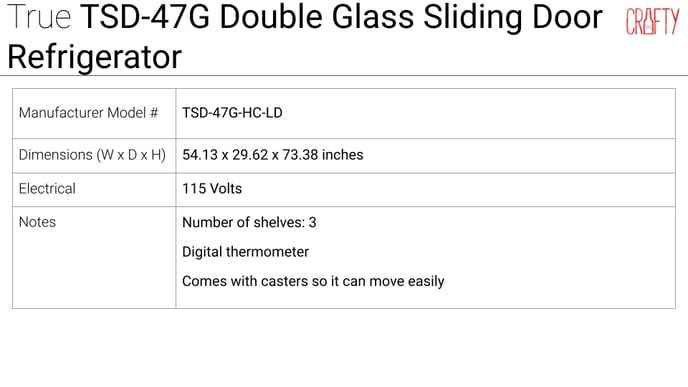 And that's about it! Here are some specs, so you really know EVERYTHING about the TSD-47G Double Glass Sliding Door Refrigerator :)
Spec sheet and installation guidelines are available for download here.