Equipment & Servicing > Coffee Machines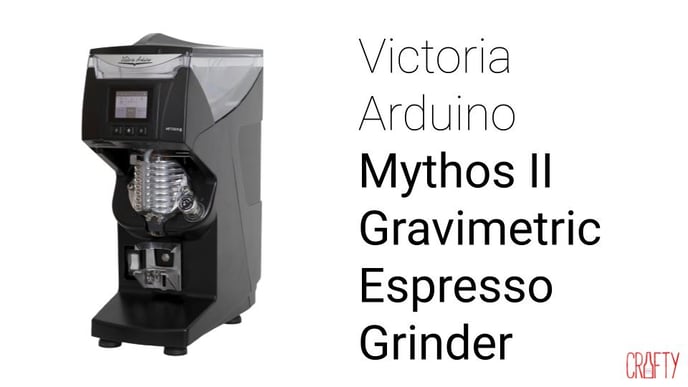 Victoria Arduino
Since 1905, Victoria Arduino has been making innovative espresso machines in its native Italy. The first machine was inspired by a steam engine train and a mission to make a fabulous tasting cup of espresso as quickly as possible. In 1922, they decided to invest in some advertising, commissioning posters painted by painter Leonetto Capiello. These posters made Victoria Arduino one of the most recognizable coffee machine brands of the 20th century and they have continued to be one of the most trusted brands well into the 21st century even being the official machine of The World Barista Championship since 2015.
Mythos II Gravimetric Espresso Grinder
This amazing espresso grinder uses a gravimetric system to grind the perfect amount every time, by weight, no matter what you set the grind to. In layman's terms that means that every cup will be as delicious as if you hiked up a cobblestone street in a small Italian town and a 90-year-old Nonno made you a fresh cup of espresso when you stopped into his cafe where he's been making coffee for 60 years. Your job is to just press start and let the grounds come to you.
The Mythos II Gravimetric adds the ability to grind by weight, rather than grinding by time. The portafilter mounts house a load cell, allowing the grinder to precisely gauge the mass of coffee in the basket. With some quick tuning of your grinding parameters, dose consistency is excellent and typically within 0.3 grams.
The Nuts and Bolts
Quality: It doesn't get much better than this. 85 mm flat steel burrs, coated in titanium nitride for durability and a longer, sharper life. You can tune your for production speed or for flavor and even temperature. A new touchscreen display makes for quick programming of the 6 stored coffee profiles, each with 3 settings for doses.
Volume: This grinder is perfect for your full-service in-office cafe.
Maintenance: This machine requires a weekly cleaning of wiping down the exterior surfaces and a more extensive deep clean every 6 months. This can be managed and scheduled by our lovely Field Operations Team!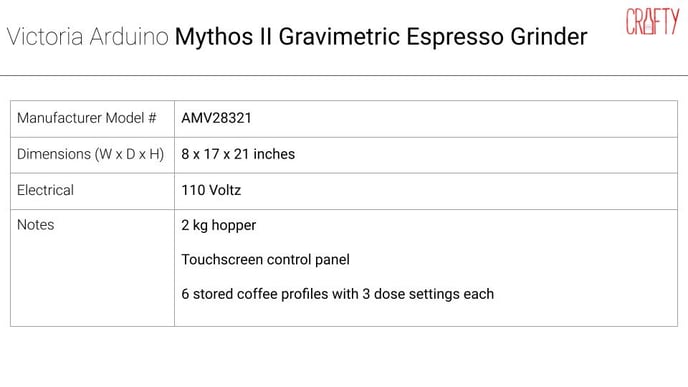 And that's about it! If you're interested in learning more about the Mythos II Gravimetric Espresso Grinder, see some additional links below :)
Spec sheet is available for download here.
Additional information is available via the manufacturer's website.