Learn all about our wall-mounted tall snack shelves to add to the aesthetic of your snack setup!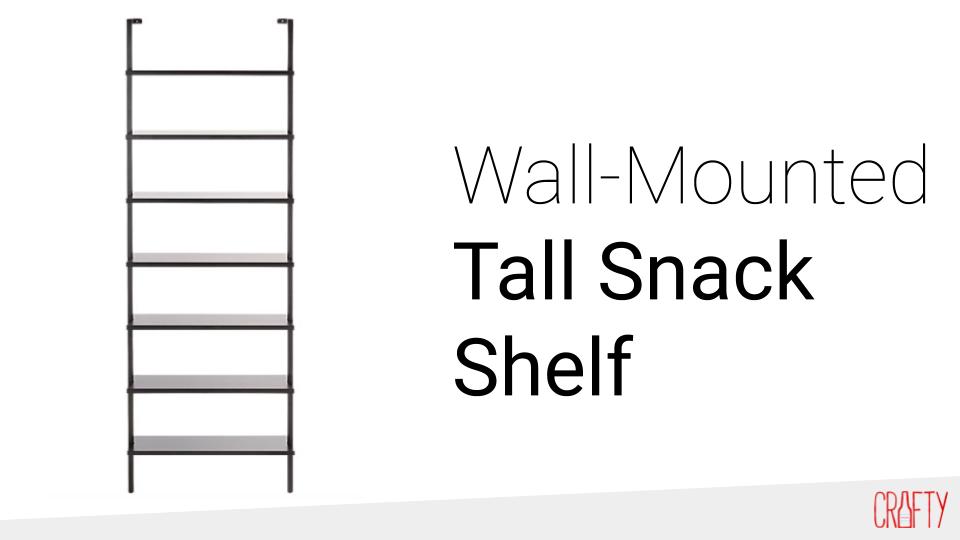 CB2
CB2, a division of Crate & Barrel, started back in 1962, on Wells Street in Chicago. Apparently the neighborhood of Old Town, now famously =a bustling neighborhood home to the comedy clubs Second City and Zanies was considered a "bohemian" destination. CB2 was opened by Gordan and Carole Segal and inspired by their honeymoon in the Caribbean. Seeing many affordable and beautiful European wares for sale in the Caribbean, they were inspired to bring that style and affordability stateside.
For the last sixty-some-odd years, Crate & Barrel and CB2 have become synonymous with beautiful and clean design. We knew that when creating aesthetically pleasing kitchen setups for our clients, CB2 and Crate & Barrel was a place we had to look for inspiration. Not only are their designs sleek and modern, but they also stand up well to any daily wear and tear!
Wall-Mounted Tall Snack Shelf
This is a great option for displaying your snacks when your space provides the height! It brings the eye upward and provides a modern look with clean, thin lines. This sucker, with its powder-coated, aluminum frame, is anchored right to the wall so you won't have any trouble keeping it in place or meeting regulations. We make sure to add some flair in the form of sleek wire baskets, succulents, and the ever-important, Flamin' Hot Cheetos!

Nuts and Bolts
Quality: These shelves are the truth when it comes to quality. Because they're wall-mounted, they are about as sturdy as any shelves on the market. The solid aluminum frame ensures that this piece will last as long as you need it to. Even longer!
Volume: For aesthetic purposes, and to maintain this modern and airy look, we suggest not overcrowding the shelves; however, even with that, they're able to hold quite a wide variety of snacks.
Maintenance: Aside from a regular wipe down from our Field Ops team, this piece doesn't need much!
Here are some specs for you to see if it will work in your space: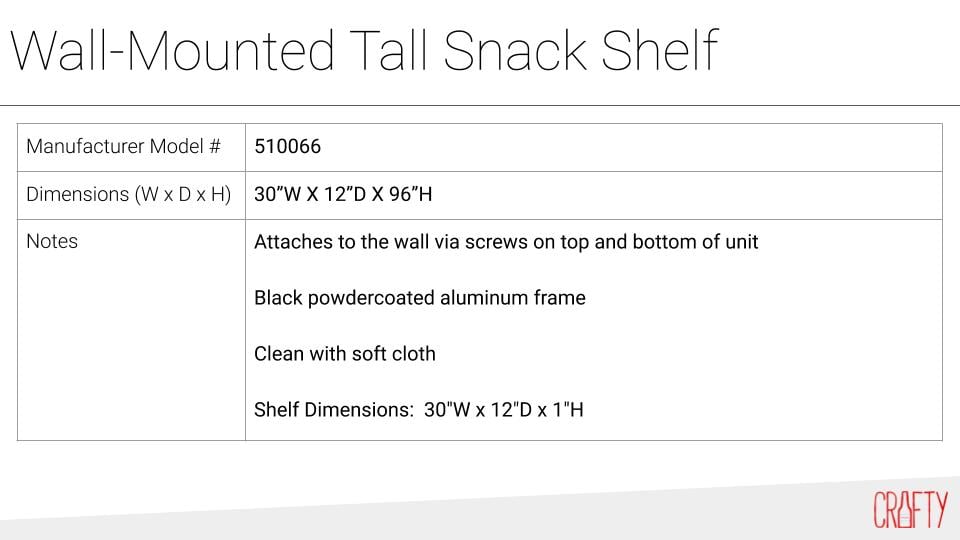 For additional specs and guidelines, click here!
And that's all, folks! If you're interested in having one or many of these beauties in your space, smash the button below to get in touch :)