Coffee Equipment > Automatic Bean-to-cup Espresso Machines

WMF
WMF is the leading international manufacturer of fully automatic coffee machines. Every coffee system is unique in itself and a specialist for meeting individual needs. To this date all of the WMF coffee machines are being manufactured in Germany, and the entire product range covers a unique spectrum that truly offers everyone a customized machine.
The 1500S+ Three Hopper Bean-to-cup Espresso Machine
Blending reliable performance with intuitive operation, the WMF 1500S+ packs an eclectic array of advanced features into its slim dimensions. The WMF 1500S+ is a versatile solution for providing premium coffee specialities. It combines the high quality and long-term reliability you expect from WMF with great flexibility and variety. Add the benefits of pioneering digital connectivity, and you have all the ingredients you need to grow and evolve your coffee business over many years.
The Nuts and Bolts
Here's what you really need to know about this incredible machine:
Quality: the WMF produces one of the highest quality drinks of all the machines we offer. We've had Italian executives even remark that its espresso is "quite good" :). Italy is the birthplace of espresso, ergo, ipso facto, an Italian executive endorsement is the chef's kiss of approval.
Volume: this machine is best for locations ranging from 200 to 400 people.
Maintenance: maintenance schedules should be run weekly.
And that's about it! Below are some specs, so you really know EVERYTHING about the WMF 1500S+.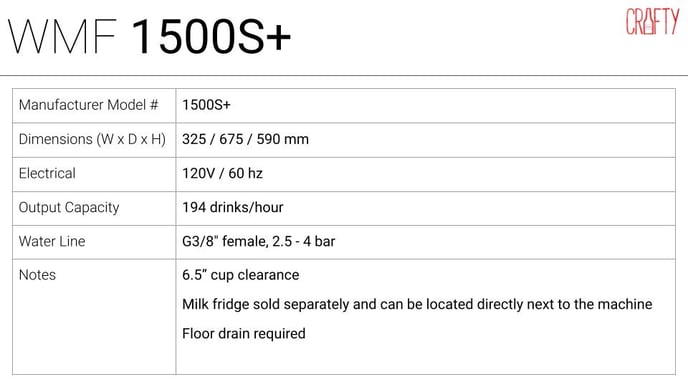 Spec sheets and additional guidelines are available for download through here!
Additional information is also available via the manufacturer's website.