BUNN Infusion Twin Short Equipment > Coffee Equipment > Drip Coffee Machines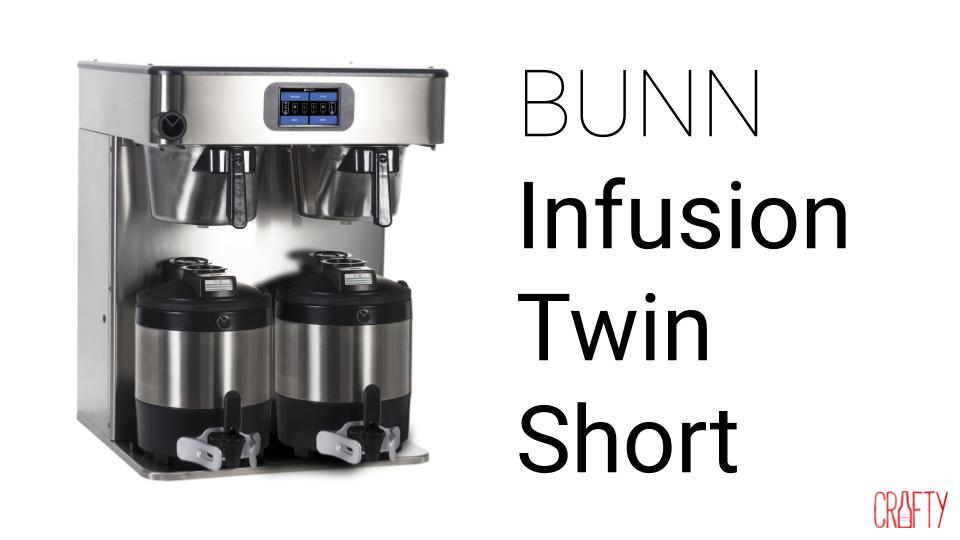 Bunn-O-Matic
Since 1957, Bunn-O-Matic Corporation ("BUNN") has been at the forefront of dispensed beverage equipment manufacturers. The majority of all commercial equipment models are assembled at facilities in the USA, and some of the components for their products are also tooled in these same facilities. BUNN's mission is to be the best provider of beverage equipment and services worldwide.
The Infusion Twin Short
For offices intending to locate their coffee machine beneath cabinetry, the Infusion Twin Short is produces a great cup of coffee at a large scale.
The Infusion Twin Short comes with two separate 1.0 or 1.5 gallon ThermoFresh Servers, which keep your batches of coffee hot and track the amount of time they have been in the server since the brew.
The SmartWAVE sprayhead technology provides enhanced uniformity of extraction and lime scale reduction (a fancy way of saying the "sprayhead," which pours water on the coffee grounds is really great at what it does). The machine also features an energy-saver mode that reduces tank temperature during idle periods.
The Nuts and Bolts
Here's what you really need to know about this incredible machine:
Quality: when it comes to drip coffee, you're looking for consistency. Look no further.
Volume: this machine is a workhorse, not just a show horse into dressage (side note: we're not entirely sure what 'dressage' means either but it sounds fancy). We have placed it in offices of any size, where it has performed like Simone Biles every damn time. For smaller offices, we recommend the Infusion Single Short.
Maintenance: the brewer requires a weekly sprayhead clean, and the ThermoFresh servers require a daily rinse and a weekly descaling.
And that's about it! Here are some specs, so you really know EVERYTHING about the BUNN Infusion Twin Short :)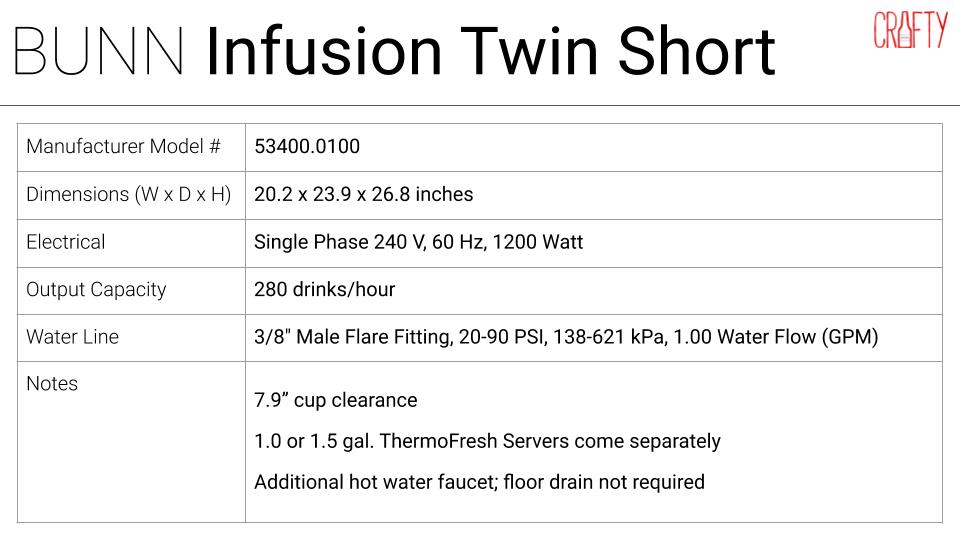 Spec sheet and installation guidelines are available for download through here.
Additional information is available via the manufacturer's website.
Interested in having a BUNN Infusion Twin Short in your office? Not sure and just want to chat? Just looking for someone to talk to? Honestly, we're down for whatever.