Equipment > Water & Ice Machines
Follett
Located in Lehigh Valley, Pennsylvania, Follett has led the industry in designing and manufacturing high quality, innovative ice storage bins, ice storage and transport systems, ice machines, ice and water dispensers, ice and beverage dispensers, and medical-grade refrigerators and freezers for the foodservice and healthcare industries.
7 Series Ice & Water Machine
With a very compact frame, this countertop water machine uses an air-cooling system to deliver cold water directly to your glass.
While most water & ice machines require a floor drain, this innovative model evaporates the water located in the drip pan using the heat from its condenser. Quite a clever trick! This machine is both easy to install and easy to clean.
Additionally, this model delivers those cute little chewable nuggets of ice, as opposed to the traditional larger ice cubes.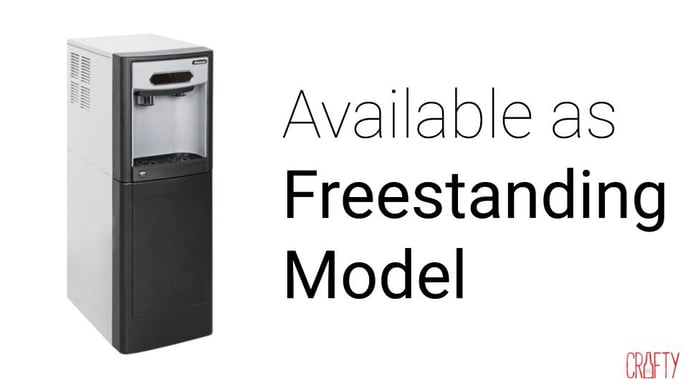 The Nuts and Bolts
Here's what you really need to know about this sturdy machine:
Quality: an additional filtration system needs to be installed directly onto the water line, and the machine comes with a 5 micron particle carbon filter.
Volume: this machine is very well suited for medium to large sized offices. We recommend one machine for every 100 people. The ice production capacity can deliver 200-servings in a full 9-hour day.
Maintenance: the drip tray should be dumped daily, and the machine itself should be wiped down daily as well. The water filtration system will need to be replaced quarterly at a minimum, but fear not: our Field Operations team will handle that :)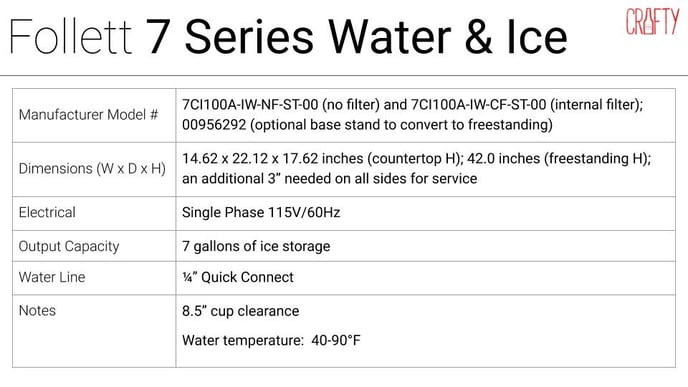 And that's about it! Here are some specs, so you really know EVERYTHING about the Follett 7 Series :)
Spec sheet and installation guidelines are available for download through here.
Additional information is available via the manufacturer's website.