Nespresso Aguila Equipment > Coffee Equipment > Pod Coffee Machines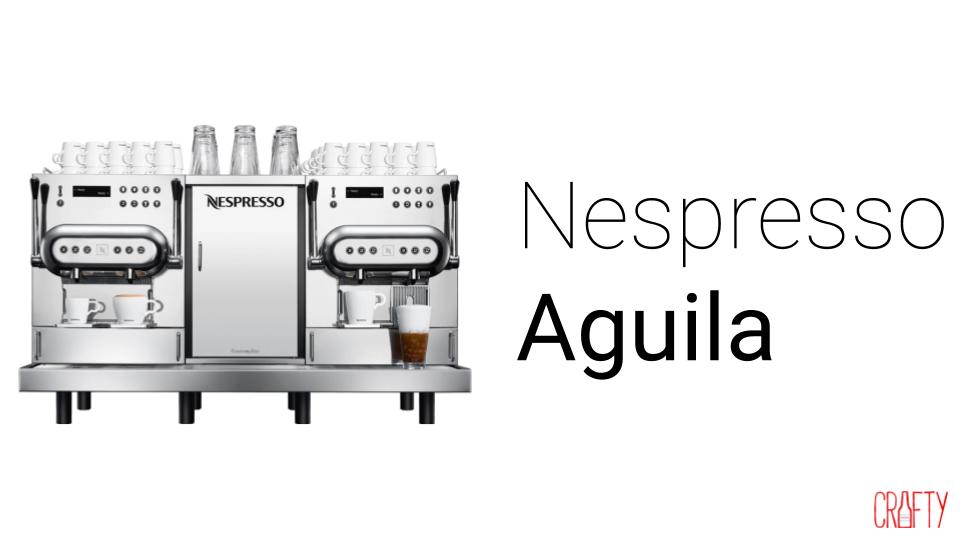 Nespresso
Nespresso, located in Lausanne, Switzerland, created these beautiful machines that brew coffee and espresso in capsules or pods with a pre-portioned amount of impressively tasty grounds. This way, you know you're getting the perfect amount for the perfect cup, every time. Fun fact, Nespresso is the combination of the words Nestlé and espresso! And in other news, water is wet! This has been "FAST FACTS!" with Crafty ;)
Let's not forget Nespresso's Sustainability Mission. Despite delivering their coffee via a pod, they have a great program to keep your footprint as small as a babyfoot (which is actually the name of Bigfoot's firstborn AND the most adorable way to measure something).
The Aguila
You've heard of a Ferrari, right? Now imagine what a Ferrari (famously, a car) would be like as a pod coffee machine. Enter the Aguila.
Yes, it's beautiful, but along with that beauty comes function. It can make up to 4 cups at one time and it is the most versatile pod coffee machine out there.
The Aguila can make any espresso based drink with or without fresh milk.
The only thing this Ferrari doesn't do is drive you where you want to go, however, with enough caffeine, you're fine to just run there
The Nuts and Bolts
Quality: We've said before and we'll say it again from the rooftops so you know: Nespresso makes the highest quality pod coffee machines in the market. If you gotta go pod, you gotta go Nespresso.
Volume: This bad boy works really well in offices over 200 people.
Maintenance: This machine requires daily maintenance since there's all that fresh milk, however, that is no issue for our Field Operations Team!
And that's about it! Here are some specs, so you really know EVERYTHING about the Nespresso Aguila :)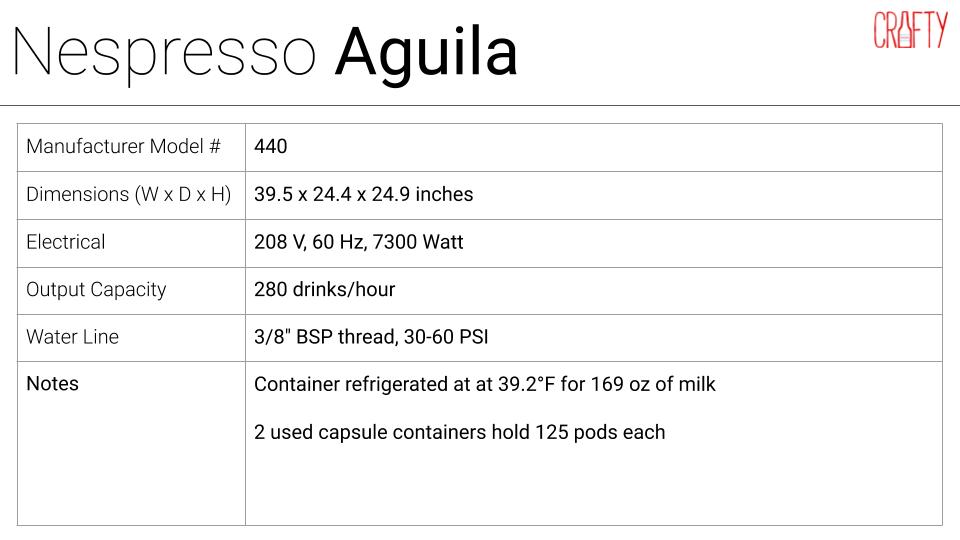 Spec sheets and additional guidelines are available for download through here!
Additional information is also available via the manufacturer's website.
Interested in having a Nespresso Aguila in your office? Not sure and just want to chat? Just looking for someone to talk to? Honestly, we're down for whatever.