The Bevi > Water & Ice Machines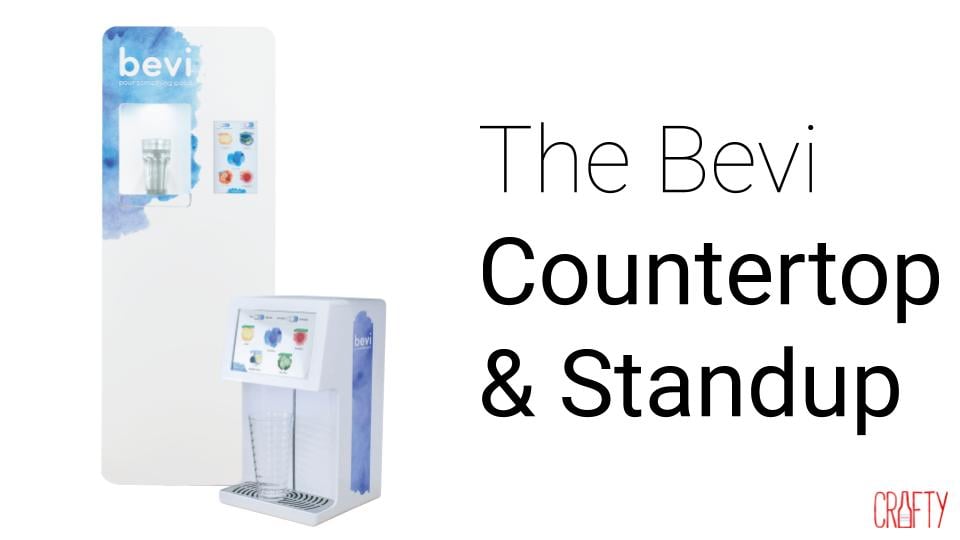 In 2013, the idea for Bevi was born with a water machine prototype that would out-design the notorious plastic water bottle. Today, Bevi's smart water dispensers have saved the waste generated by over 65 million plastic bottles. Bevi is on a mission to replace mass-produced bottled beverages with custom drinks mixed at the point of use.
The Bevi is a smart water machine that produces naturally-flavored sparkling and still water in both zero and low calorie sweetened flavors!
Flavor Flave(s)!
Each machine can hold up to four different flavors at a time and offers both sweetened and unsweetened flavors. Goes without saying, but all are vegan :)
The flavors are served via Bag-in-Box (nicknamed "BiBs" for short), which are made of recycled materials and are recyclable! Each BiB can make up to 400 12-oz flavored servings.
Unsweetened Options:
Key Lime
Peach Mango
Strawberry Lemongrass
Watermelon
Grapefruit
Peach
Raspberry
Lime Mint
Lemon
Cucumber
Coconut
Pomegranate Blueberry + Electrolytes
Peach White Tea + Caffeine
Sweetened Options:
Strawberries & Cream
Black Cherry
Lemon Lime
Blackberry Lime
Bevi offers two different models, both of which are installed, serviced, and fulfilled by Crafty:
The Countertop Bevi
The Standup Bevi
The Countertop Bevi
Countertop Bevi's hidden beauty lies in the fact that its plumbing and hardware are integrated into your kitchen's base cabinets, leaving only the sleek, compact dispensing unit visible on the countertop. Simply put: it's sleek enough for any kitchen design. The Countertop Bevi's hardware is installed in the base cabinet space below the dispenser.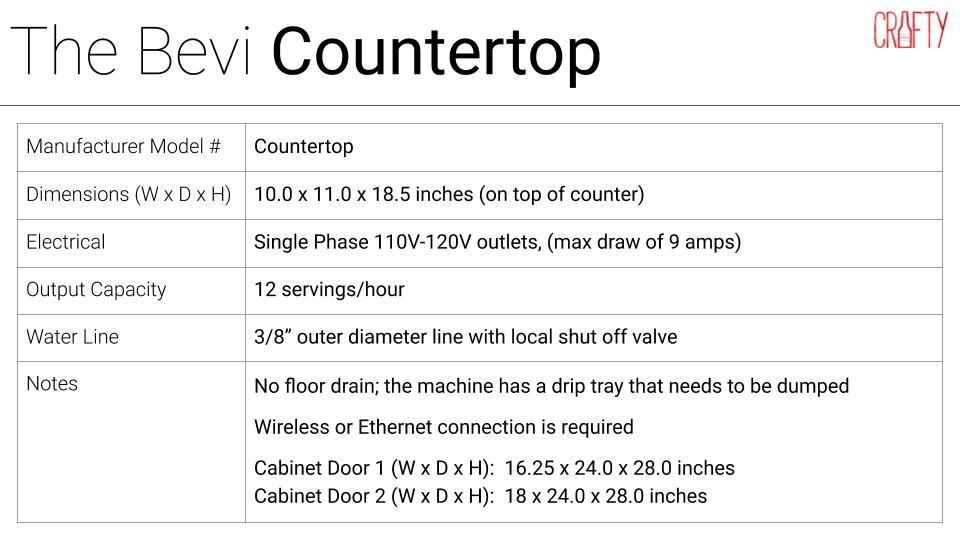 The Standup Bevi
The flagship floor-standing unit, Standup Bevi is the perfect addition to your fully stocked kitchen. Occupying only 4 square feet of floor space, the Standup Bevi is both brains and beauty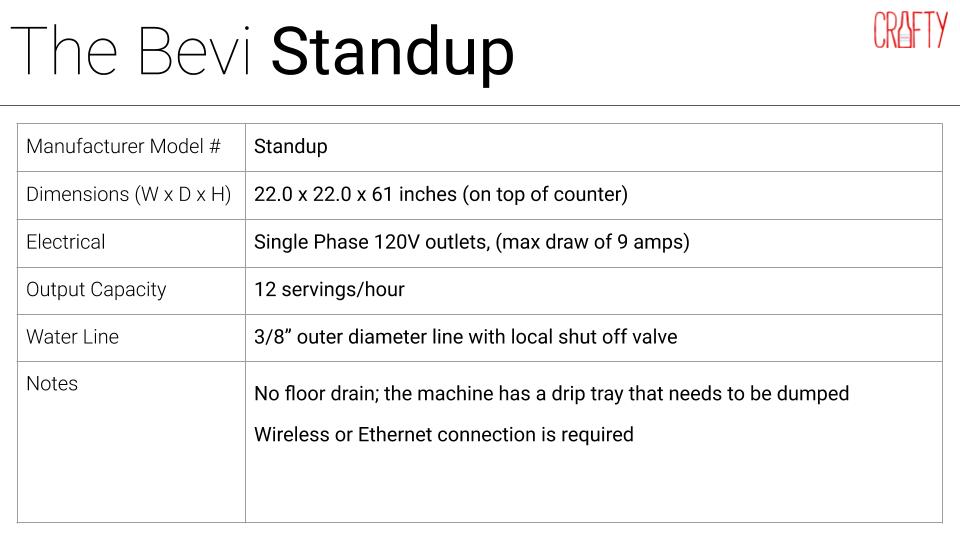 The Nuts and Bolts
Here's what you really need to know about this incredible machine:
Quality: when it comes to sparkling, flavored water machines, the Bevi is about as good as it gets! The flavor and bubbles are just delightful. We've all become sparkling water addicts as of late and Bevi is a great way to keep up the habit without the guilt of a thousand aluminum cans.
Volume: this machine can handle a lot of volume. That said, if you're an office of over 300 people, we would start to look into multiple units to help balance workload.
Maintenance: Crafty's Field Operations Team will handle the CO2 swaps, the flavor refills, and the overall maintenance and servicing of the Bevi. Just like people, machines have bad days too, and when they do, we'll be there :)
Bevi water dispenses at 35-40 °F, so it unfortunately cannot do hot water :/
Spec sheet and installation guidelines are available for download through here.
Additional information is available via the manufacturer's website.
Interested in having a Bevi in your office? Not sure and just want to chat? Just looking for someone to talk to? Honestly, we're down for whatever.