Water & Ice Machines
Waterlogic
Waterlogic was originally founded in 1992, and they know water. Inside and out. Their whole model is rooted in trying to make the most plentiful substance on Earth as perfect as it can be. Waterlogic combines sophisticated water filtration with UV purification, and they add a special silver (precious metal!) anti-microbial protection to round things out. Plain and simple: their water machines are the bee's knees!
WL3 Hot & Cold Water Machine
Built for the contemporary work environments where space is often a top priority, the WL3 In-tank UV is distinguished by its streamlined aesthetics including a countertop model to complement break rooms, conference rooms and reception areas.
It provides cold, ambient, hot, and extra hot water and uses an in-tank UV system to effectively remove waterborne micro-organisms to guarantee great quality water glass after glass.
The Nuts and Bolts
Here's what you really need to know about this sturdy machine:
Quality: the carbon filtration system paired with a UV filtration system makes for deliciously clean water. Have we used the word "filtration" enough for you yet? We know, we know, but bottom line, this stuff is CLEAN.
Volume: this machine is very well suited for smaller sized offices. With 4 liters of cold water storage and 1.5 liters of hot water, this machine can serve up to 50 people before we'd recommend more units.
Maintenance: the drip tray should be dumped daily, and the machine itself should be wiped down daily as well. The water filtration system will need to be replaced quarterly at a minimum, but fear not: our Field Operations team will handle that :)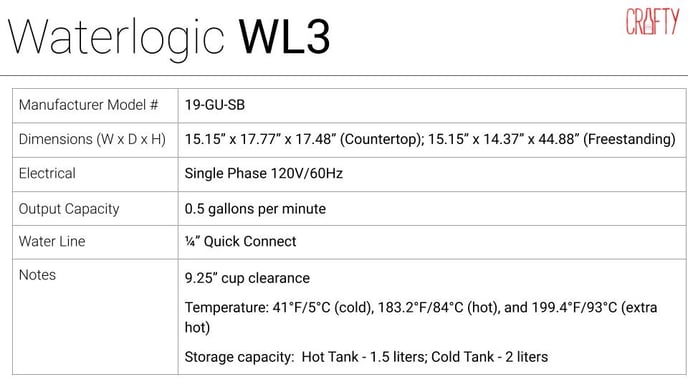 And that's about it!
Spec sheet and installation guidelines are available for download through here.
Additional information is available via the manufacturer's website.
Interested in having a WL270 in your office? Not sure and just want to chat? Just looking for someone to talk to? Honestly, we're down for whatever.