This is how we do it. It = launch a new program! This article covers our onboarding process for new Enterprise clients.
Let's start at the very beginning, a very good place to start!
Once your contract is signed, the Implementation Program is launched with a Kickoff Meeting led by your Implementation Manager, Account Manager, and Sales Executive.
Our Implementation Program can range from 4 to 12 weeks depending on your needs. We like to think of it in three stages:
Assessment & Planning
Preparation & Setup
Launch Operations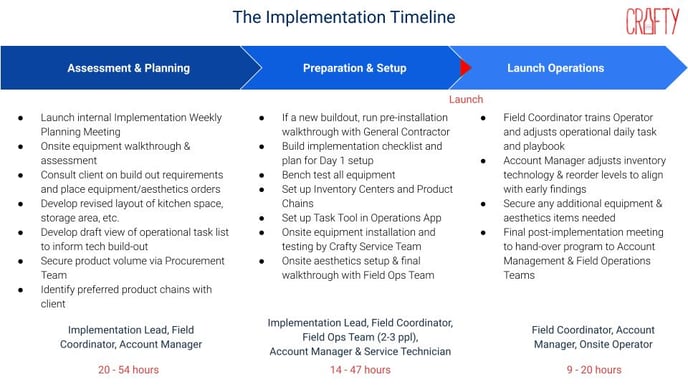 We accomplish a lot during Implementation and it's an all-hands on deck approach for Crafty! Some of the folks involved include:
Implementation Lead
Service Technician
and your Sales Lead!
During this process, we are focusing on three areas of attention:
Equipment
Products
On-Site Operations
Equipment
In your signed contract, we have finalized the equipment we'll be providing to outfit your space. Once we receive that signed agreement, we immediately place our equipment orders, and the lifecycle of your equipment begins:
Equipment is ordered - Crafty only installs brand spankin' new equipment in your space
Once received at our warehouse, equipment is assembled and tested
Equipment is then delivered to your space and installed by our trusty Service Tech team
Once installed, our team will run preventative maintenance and cleans on that equipment on an on-going basis
Products
Your Inventory Center is our digital library of all your locations. This is where we build and store your product portfolio. We take into account each unique food space in your office and structure your Inventory Center with each of those spaces in mind (e.g. how much LaCroix can fit in the fridge and how many roasts does your coffee machine hold?).
We build Product Chains to automate any product substitutions that may arise.
Our team will begin building out your planograms. Planograms are illustrations of the stocking locations in your space (e.g., equipment, countertops, cabinets).
Based on your current product portfolio and our previous discussions, our team will populate Version 1 of your planograms and send to you to gather your feedback. Once finalized, we will build the planograms into your Inventory Center.
These systems are constantly evolving. While we have finalized the go-live version of your program, we will regularly refresh your selection. The objective in finalizing a go-live version is to have everything ready for Day 1 in your space. As a result, we aim to complete this entire phase within the first three weeks of your Implementation Program.
On-Site Operations
The final two weeks of your Implementation Program are focused on building your Operator Task List, which is always available to you in the Crafty Dashboard.
This list comprises of every single thing you'd like done in your space so every minute of the Operator's time is being utilized well. We can even build a different list for each day of the week because we know that tasks vary throughout the week.
After walking through the space with you, our team will provide time allocations for each task that is meant to be completed and vet those expectations with you. Once we've aligned on those times, our job is to complete them efficiently.
For each task, we are all about the follow through, which means we get the receipts! For example, stocking a fridge requires that the planograms are followed and a photo is taken. That photo is uploaded into you Crafty Dashboard so that our Field Operations management team can review our work.
If we don't finish the agreed upon tasks in the time allotted, we'll stay and finish, and you won't be charged for overtime. If we miscalculated the time it takes to finish tasks, we'll discuss changes those changes with you, and nothing will be changed without your approval.
At Crafty, our first company value is We Obsess Over the Client, and we've built this Implementation Program with that value in mind!