Learn all about our undercounter single glass door fridge to add to the aesthetic of your snack setup!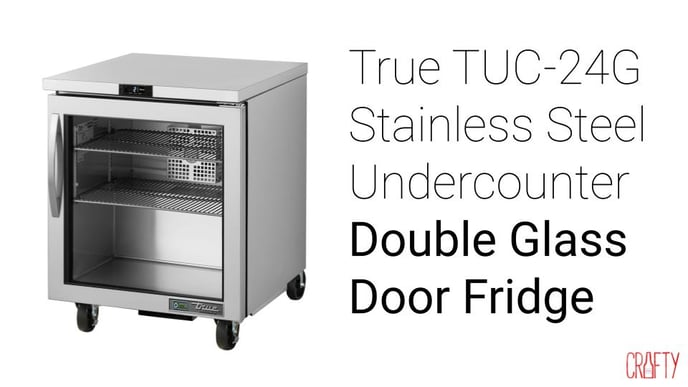 True Manufacturing
True Manufacturing was started right after the Second World War in 1945 by Robert Trulaske. Like most good ideas, Bob got the idea for commercial electrical refrigeration when he was out at a bar. The difference between most ideas that happen at a bar and Bob's idea was that he followed through! Because of his vision, True remains one of the most trusted commercial refrigeration companies out there today. True is still a family business, run by Bob's son, Steve Trulaske and everything from True is made in the USA.
The single door T-23 is not only a gorgeous, modern-looking fridge, but it's also designed to last and work well too! With high-quality materials, it's able to provide products with colder temperatures, maintain lower utility costs, and make food safety the number one priority. The stainless steel body falls right in line with the Crafty aesthetic and the glass door allows for full visibility so employees always know what's available without opening the fridge door.
Nuts and Bolts
Quality: True Manufacturing makes all their products stateside and have been around since 1945. A company that has been around that long has a clear stake in making sure they're turning out the highest quality equipment possible.
Volume: This fridge can hold just about anything within its size and the shelves are adjustable. whether you're stacking drinks or catering trays, you can adjust the shelf heights to fit everything properly.
Maintenance: Our Field Ops team will wipe these down daily after filling them with product. We focus on the doors and the bottom of the fridge since the shelves are wire racks and don't usually need much wiping. We also do a deep clean of the fridge once a week which requires we take everything out and disinfect every surface.
Here are some specs to see if this will work in your space: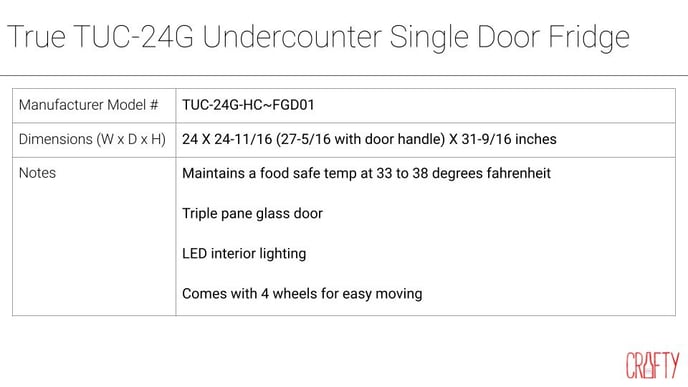 For additional specs and guidelines, click here!
And that's all, folks! If you're interested in having this unit in your space, smash the button below to get in touch with us <3