Our Service Creed guides our daily client operations and helps us maintain a unique and differentiated client service.
Spearheaded by our Field Operations Team, our Service Creed was birthed out of our #1 Crafty Value, We Obsess Over the Client, embodies everything we do. We have a passionate drive to exceed the expectations of our clients with every interaction and opportunity given to us, and our goal is that their kitchen, nooks, pantries and spaces are made more beautiful and welcoming because we are there!
Four cornerstones make up the foundation of our Service Creed:
Beautify
Hospitable
Reliable
Adaptable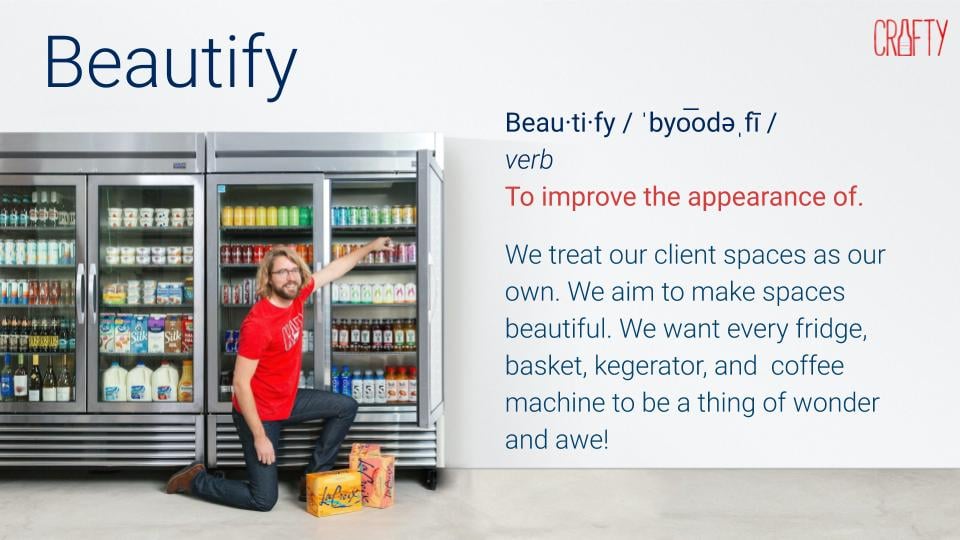 Imagine walking into your office every morning to find all of the fridges are brimming, the coffee is brewing, and the place looks absolutely beautiful. That's life with Crafty :)
When it comes to beautifying our spaces, we have a TON of specific guidelines our team uses. Here are some examples pulled from our internal training guides:
Like-beverages (same brand) should be stocked together.
Stocking should be done from the back to front to ensure the cold drinks are the first grabbed (because who likes a warm soda? I mean, if you do, let us know and we'll just grab one from the stock room for you).
Beverages should be front-faced with labels facing out and easy to read.
Sparkling water varieties should be organized in the ROY.G.BV order.
First Expired, First Out (F.E.F.O.), meaning closest expiration dates toward the front.
Stock bottles with bottles and cans with cans.
All loose food items should be kept in separate plastic containers.
Fruit should always be displayed in a bowl and/or fruit tree. No boxes allowed!
Gloves must always be worn when handling all fruit and bulk snacks poured into a gravity bin.
Fruit that is tossed should be flagged to the Field Operations Team for tracking of food waste impact.
Chip and snack bags are fluffed, not smashed, and front faced.
Never use the same container to fill different products (disposable cups/bowls).
If using a scoop, clean in between product to not contaminate.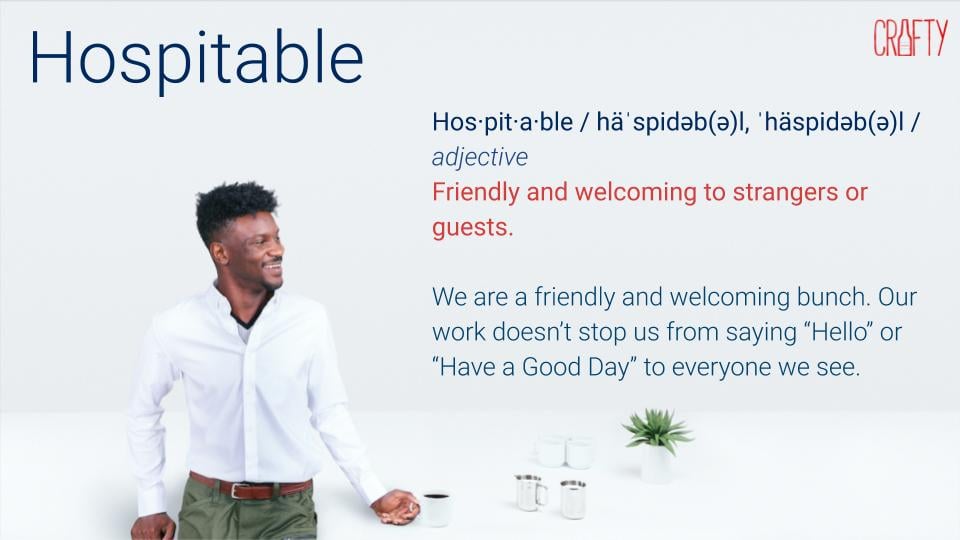 "Understanding the distinction between service and hospitality has been at the foundation of our success. Service is the technical delivery of a product. Hospitality is how the delivery of that product makes its recipient feel. To be on a guest's side requires listening to that person with every sense, and following up with a thoughtful, gracious, appropriate response. It takes both great service and great hospitality to rise to the top."
- Danny Meyer, Famous Restaurateur, "Setting The Table"
Here are some examples pulled from internal training guides to illustrate what that looks like for us:
Mind Your Manners - The first and smallest step, but most important. We want to stay present and pleasant with our conversations and body language.
Self-Awareness - It allows us to softly step out of staff's way, to ghost through a kitchen or nook smoothly without disturbing its rhythm, to slide in and out of storage closets with product in a clean organized fashion.
Shift Your Attention to the Staff - In other words, leave your baggage at the door. Your smile should be real and genuine and your emotions in check. Not saying you need to be a robot, just be your kindest self.
Take Pride In Your Work - No matter the job, big or small, should be carried out with enthusiasm. Your job doesn't define who you are. How you do the job demonstrates character. This type of pride is contagious and can motivate the people around you building a stronger team.
10 & 5 Staff Rule - Anytime a staff member is within ten feet of a customer, they should make eye contact and warmly smile to acknowledge the oncoming guests. When a staff member is within five feet of a customer, a sincere greeting should accompany the eye contact and smile.
Offer a Hand - When you're stocking snacks or drinks and notice a customer would like something, offer to get the item for them. If they are unsure, help them out. Tell them your favorite snack or drink. When passing through doorways, hold the door for people who may be passing with you.
Know Your Client Site - What do you hear the staff saying? Learn the busy times and down times. You don't want to deep clean a Duke as staff who desperately need a wake up cup of coffee are just getting to work. Learn the names of main contacts and facilities staff. Flag client feedback, requests, etc, to your Account Manager.
Know Your Guests At Our Cafes - Get to know the guests! Our patrons are 99% regulars. Overtime, you should get to know their drinks, names, birth signs, and kids' names! It goes a long way to making them feel special.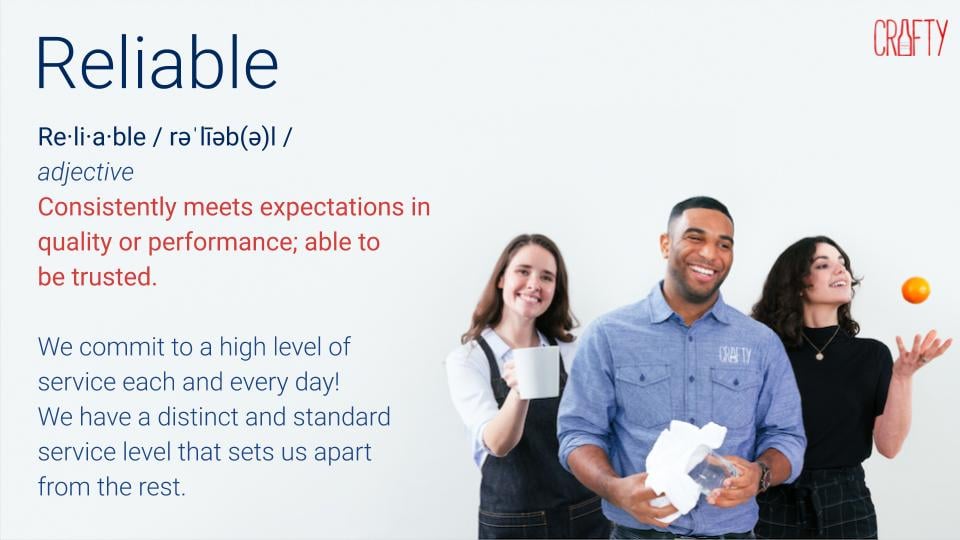 Consistency is so key! And this is where we shine :)
Here are some more examples to help show what we mean when we say reliable:
Self-Managed - We are punctual and ready to work at the start of our shift. We work efficiently, complete tasks on time and know when to ask Field Operations for help.
Self-Motivated - We are persistent and try to stay current on client and product knowledge. We strive to improve ourselves by identifying weaknesses and playing up our strengths.
Detail-Oriented - Attention to detail is crucial. We consistently dot the "i's" and cross the "t's."
Team-Oriented - We prioritize our individual job duties yet can still find ways to help out our team when needed. We value communication and always flag any client feedback, requests, or issues to the Field Operations Team or Account Managers.
High Integrity - We are forthright, honest and transparent. We take responsibility for our mistakes, value constructive criticism and recognize the efforts of deserving team members.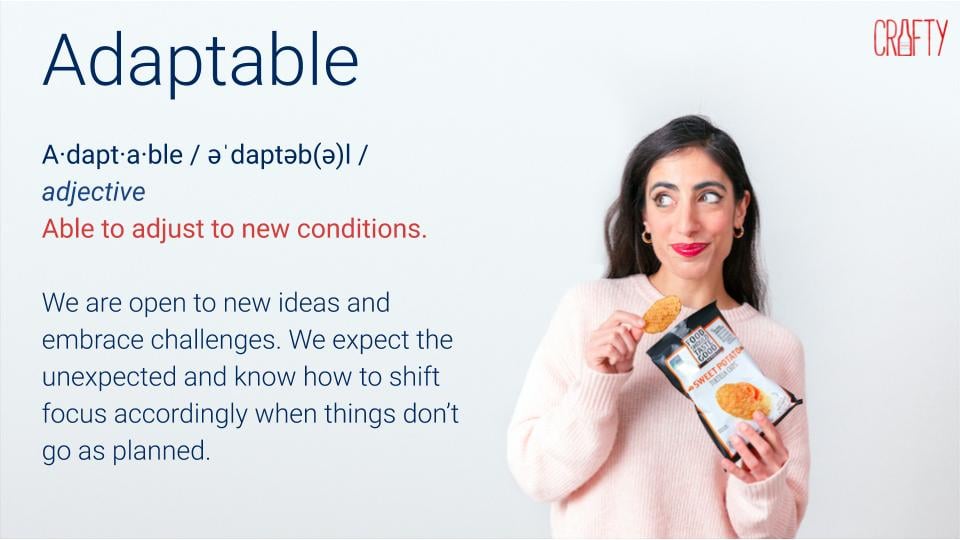 "Ch-ch-ch-ch-changes....turn and face the strange...ch-ch-changes."
- David Bowie, All Around Legend, "Hunky Dory"
David Bowie was SO right! The key to being adaptable is your ability to face the strange! Here's what that means at Crafty:
Alternative Solutions - Prepared back-up plans and alternative options. Let's say the delivery is running late. Then, let's use that time to start stocking from existing inventory and checking expiration dates of product.
Accept Surprises - Able to effectively manage stress or discomfort when things go unexpected. When equipment issues arise, we step in to troubleshoot them ASAP, and then create work orders for our Service Technicians to come on-site if the issue cannot be resolved.
Shift Focus - Stay productive organized, and change priorities. Remain calm and confident. For example, if it turns out there is a company meeting scheduled in the space where the De Jong Duke Nio is located, which means you can't clean it as planned, we shift gears to the other tasks on our Task List.
Acquiring New Skills and Diversifying Knowledge - Rotating tasks and taking on new jobs. We acquire product knowledge: e.g., traits of coffee, beer, wine and snacks.
If you're still reading, you absolutely rock, because that means you appreciate the details just like we do! If you're looking for a partner who can deliver on an incredible client experience, look no further!